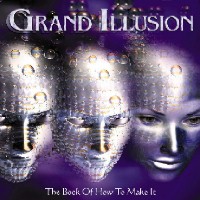 Another good new comer from Sweden: GRAND ILLUSION. Their album called "THE BOOK OF HOW TO MAKE IT" is now on sale (on March 23rd, 2001) from MARQUEE/Avalon in Japan and will be out on April 7th, 2001 from ESCAPE MUSIC in Europe. The Japanese edition includes a bonus track called "The Hardest Part". You can listen to a part of their songs here.
GRAND ILLUSION originates from the band: PROMOTION. We have played together since 1986, sometimes with a horn section and sometimes without. Through a lot of years the band played music that we ourselves liked to play, both own songs and covers songs. We did shows in the southern of Sweden mostly just for fun. But it wasn't until Anders Rydholm built a music studio in 1995 that we started to record our own material. Our first record "NOT FOR SALE" is compilation of mostly old material that we wanted to document. It was done with a very low budget and over a long period of time and the aim wasn't so high. We released our first record "NOT FOR SALE" under the name "PROMOTION" and through Anders company, GodisPaScen. We came in touch with Georg Siegl, a German web record dealer, and with his help the ball started to roll. Great reviews in both websites and music magazines made us believe that there was market for a band like ours. It also gave inspiration to do a fresh new album with better songs, higher quality and with a more professional attitude. "YEAH, YEAH" is also released under the same circumstances and Georg Siegl helped us once again. The budget is still low but all the positive response from our first record made it easy. Even better reviews on this record and a lot of really nice feedback from listeners all over the world. You could check out a lot of the reviews from both our albums at our home site:
http://www.godispascen.se/promotion/ (S-ROCK: This page isn't available any more)
Record number 3 are much heavier than the 2first records. It's more pure AOR. In May 2000 we also got signed to Escape Music. Then we started to talk about changing the band name. After four months of dwelling and thinking we finally agreed on "GRAND ILLUSION". GRAND ILLUSION is a 5 piece band but it's focused on 3 people. Anders, who writes the music, arranges and plays a ot of the instruments. Ola Karlsson writes all our lyrics. Peter Sundell is the lead singer and has a pretty unique voice. Nowadays we seldom play live since the opportunities for this kind of music is very low in Sweden unless you play techno, hip-hop or death metal. We don't but all the guys wants to tour again so if there were possibility of doing some live gigs again we would be certainly be interested. Members: Peter Sundell Vocals, Per Svensson Vocals, Anders Rydholm Keyboards, Bass and Guitar, Christian Sundell Drums and Ola Karlsson Guitar.
Anders Rydholm (Key, B & G for GRAND ILLUSION)
If you're really looking for good melodic HR materials, you definitely check this band!!!
(Discography)
ORDINARY JUST WON'T DO (ESCAPE MUSIC, 2004)
VIEW FROM THE TOP (ESCAPE MUSIC, 2002)
THE BOOK OF HOW TO MAKE IT (ESCAPE MUSIC, 2001)
IN THE BEGINNING (ESCAPE MUSIC, 2001)
GRAND ILLUSION Official Website