Satin's 3rd album "APPETITION" will be released on the 14th of October 2022 from ART OF MELODY (Italy) and SPIRITUAL BEAST (Japan). He talked about the album with full of very melodic and beautiful pieces as his fans expect.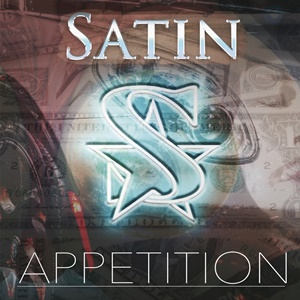 S-ROCK: Since COVID-19 2020 the world has been changed and many things were restricted. Every artist couldn't do gigs, for every band it was hard to have even a session at studio. You did some online gigs on YouTube by yourself and with your brother Ronny as PEGASUS. How were your days under restriction and did it give you any good/bad changes?
Satin: What it did, was to show that there certainly is life besides music. I'm so used to, almost addicted, to working with music and I get so caught up in "the job" that I totally forget about life itself. What I mean by life, is for example just sitting on the couch with your partner talking about other things than work, taking a walk outside without it being an exercise, just taking in your surroundings. I didn't like the live-streaming situation at all and that's why there were so few. It was like taping for a TV-show. There's nobody to play to, except a camera. I'm so used to play off the vibe that people give during our performances and when you don't see anybody, it gets weird.
But, luckily for me, most artists have a personal need for exposure. So when they couldn't play shows due to COVID, they released music. So I was overbooked with studio-projects during that time and, thankfully, did financially very well.
S-ROCK: And Russia invaded Ukraine in February 2022, the world has faced to another difficult things. Your country Norway has the border next to Russia, the same in Japan, they won't come by tank as there is Japan Sea and Sea of Okhotsk between us and them though. What have Norwegian people thought and reacted about it?
Satin: It is of course a horrible and frightening situation for everyone because you never know what it may lead to. Norway has been taking in refugees and given the children a place in school to be around and interact with other kids. I don't believe that there is a possibility that Russia will invade Norway at this moment. It's already a huge setback for the world that they invaded Ukraine.
S-ROCK: Your new album "APPETITION" will be out on the 14th of October after 5 years from "IT'S ABOUT TIME". It took 5 years because of COVID-19 issues or you just took time enough to release the best materials? Any difference of creating music before/after restriction?
To be completely honest, I wasn't going to release anymore Satin music after IT'S ABOUT TIME. It was great knowing that my albums did very well and the Japanese label (ANDERSTEIN)'s stock sold out in only two days. But, Satin is strictly a studio-project. Except for a little snippet of "Don't Know The Words" on the ROCK THE BOAT Cruise in 2019, I have never performed a Satin song Live. So I felt that since I can't promote the music properly, it's better to just leave it be.But there has been so much demand for more Satin music over the years that it became a bit overwhelming. So to put a little damper on the demand, I recorded and released the song "Going Your Way" back in November of 2021. No promotion, no video, just an announcement in a Facebook post. People loved the song and it started going around.
About two weeks after the release, I was contacted by the Italian Label BURNING MINDS MUSIC GROUP who was wondering about my plans for an album and the possibility for a collaboration. I had a couple of ideas for songs lying around and I also went back in time and picked some songs I wrote when I was a kid. Most of the songs on IT'S ABOUT TIME was written when I was between 13 and 17 years old. Those old songs are of course reworked with some new lyrics and parts. It gives the songs an authenticity by being written back in 1989 through 1993 when this type of rock music was in it's prime. But, being fully booked with other projects in my studio, I had to record, mix and master this album on my spare time. Not an optimal setting, but I think the album turned out great.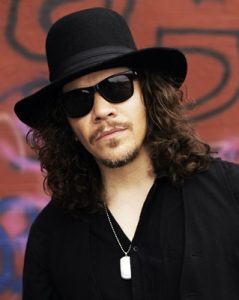 S-ROCK: Brief comments on each track including the bonus track for Japan, long ones are welcome if you like 😉
Satin: 01. Going Your Way
This song is built around a song I wrote when I was 14 years old called "Love Is In The Way". I swapped out the verses and wrote a new melody line for the chorus which is exactly like the intro riff. The original chorus is the "breakdown" part after the guitar solo. So instead of singing "Going Way Too Fast" it was "Love Is In The Way".
02. Angels Come, Angels Go
I've had so many versions of this song. I really love everything about this song and it's one of my favourite songs that I've written up to date. I think it's really cool that when the chorus is suppose to explode with a bang, it completely breaks down to just a piano and vocal. Lyrically, it's about people on the rebound and one night stands. Many people who have been dumped in a relationship are capable of really hurting themselves or spiraling down a bad path. These people that suddenly come along and have a short affair, a fling or a one night stand with them, gives them a little hope, comfort, self worth and a way to get back up on their feet and keep on wanting to live. I refer to them as the "angels".
03. Waiting For Another Man
This was on the list of tracks to be on "SATIN 2014" and "IT'S ABOUT TIME". Somehow I felt it didn't fit in, so I put it aside. But, it was one of the the first ones to be picked for this album. This song is uptempo and catchy. Lyrically it's about impatient and desperate people that needs someone there all the time, and therefore won't find someone to settle down with. Desperation is a killer in any circumstance.
04. Everybody Needs To Be Loved
A feel-good and catchy song that was written for the PEGASUS album "VENDEPUNKT". I have always loved this song and I really like the way it turned out. The title is self explanatory; No matter who you are, you need love.
05. A Dream Coming True
I was 13 or 14 when I wrote this song and it was then called "Be With You". I reworked the lyrics in the verse and bridge, but kept some of the original lines. The chorus is original except the last line. That was changed from "So why can't I be with you" to "It's like a dream coming true". Crazy to think that so many of the Satin songs finally see the light after 30-some-odd years.
06. Looking At You
This was written back in 1998 for a project that involved some R'n'B artists. When I was finished writing the song, I liked it so much that I kept it for myself. To me, this sounded like a cool rock track more than an R'n'B song. It works very well as R'n'B too, but I'm glad I made the decision to keep it. It always gave me that "Stop Loving You" by TOTO vibe.
07. Pearly Gates
Oh, my! Now where talking "oldie, but goodie". This is so early on that I can't remember when I wrote it, so It must have been when I was 12 or 13 years old. It was called "Running All The Way To The Pearly Gates". The lyrics were rewritten about 20 years ago and was then titled "Levina's Tent". I changed the title back to "Pearly Gates" for this album.
08. Jenny (I'm Bringing You Down)
I used to play this song live with my band "MIRACLE" back when I was 16 years old. What's cool about this song is that it starts out as a ballad, but completely stops right before the second verse. Then there's a guitar riff and the song kicks in to an uptempo rocker. Lyrically, it's about the frustration of someone leaving you because they think they are bringing you down.
09. Still Waiting
Written for the "SATIN 2014" album. I don't know why it didn't make that album, but I know it was too "soft" to be on "IT'S ABOUT TIME". This is also a song that is one of my favourites.
10. Fight Again
Yet again, an old song that has been reworked lyrically, but everything musical is original. The song structure, intro riff, chords and melody is from a song I wrote when I was 14 years old called "Someone To Share My Life With". It's pretty much a straight forward rocker and lyrically about almost losing yourself. For a lot of people, life is hard and always will be!
11. Blame The Flame (bonus track for Japan)
This is such a cool song! I had twelve songs recorded for "APPETITION" and I wanted it to contain 10 songs to follow suit to the previous two. The Japan edition needed a bonus track, so I had to remove a song, and that ended up being a song called "Get Less Than Half Back". When it came time to chose which song to be the bonus track, I went back and forth a thousand times. But, then I realized that it actually doesn't matter which song I chose because everything ends up on for example YouTube, so everybody will hear it anyways. It's always great when the bonus track is at the same quality level as the rest of the album.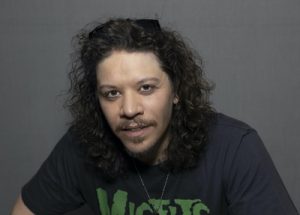 S-ROCK: On the album cover of APPETITION we can find a face (of yours?) and US dollars, on the left side there's something like a tire, and on the back of your logo there's something oval. The artwork shows things related to appetition?
Satin: Yes, that's correct. Very well detected. The circular object behind the logo is the earth. There are some things hidden in there that only I will know about. This album is lyrically about love, happiness, strength and well-being. These are things I believe people truly long for, and the way and means to get there are different for everybody. So the cover represents items that is widely affiliated with desire.
S-ROCK:  Previous 2 albums of yours were out from your own label VERUM MUSIC. This time you've got a contract with ART OF MELODY MUSIC. Why? VERUM MUSIC is still working?
Satin: ART OF MELODY MUSIC contacted me after the initial release of "Going Your Way" in November 2021. I wasn't planning on doing an album. But when they told me they wanted to work together, I said that I could record ten songs and send them over. If they liked what they heard, they could offer a proposal and if they didn't like it, I'd release it through VERUM MUSIC. They said they loved it and wanted to release it, so here we are.
S-ROCK: Any gig plans with APPETITION album? How about coming to Japan 😉 ?
Satin: As mentioned earlier, Satin is strictly a studio-project and was never intended for playing live. There's now talk about doing a show in Italy, but we'll see what happens and what the future might bring. Hehe… Japan has always been a country I have associated with music and lovers of music. I have so many Japanese editions of various albums and every band that I loved growing up was playing shows in Japan. There are circumstances that makes it highly unlikely, but you'll never know 😉
S-ROCK: What is your "appetition" besides for music?
Satin: What I strive for in life is what's in my lyrics. I've already mentioned that this album is lyrically about love, happiness, strength and well being. These are also my desires!
S-ROCK: Your messages to your fans who visit S-ROCK website, tusen takk!
Satin: I would like to thank everybody for their support and for spending their precious time giving my music a chance to make an impact in any way possible! I really appreciate it.
S*
Satin Official Facebook: https://www.facebook.com/officialsatin
Satin Official Site: https://www.tomsatin.com/