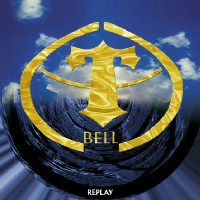 We proudly introduce an excellent AOR project from Sweden called T'BELL with Patrik Tibell (Vo) and Roger Ljunggren (G). They've already finished working for their album called "REPLAY" with 12 tracks, which is now out from a German label AOR HEAVEN (July 2000) and which is on sale now with 2 bonus tracks called "Sorry Elaine" and "Forever" from MARQUEE/Avalon in Japan (November 2000). You'll read their biography by Roger, the guitar player.
The whole idea of T'BELL started back in the late 80's. Per was working at a record company in Skara and told me about Patrik Tibell, who was working there as a studio engineer, but he was also known for being the singer of a local band called TRACE. Besides writing almost all their materials, he wrote a lot of materials of his own – and some of these songs Per got the oppotunity to listen to – and told me that those were some of the most excellent AOR-songs he has ever heard… At this time I was working as a studio and session musician and actually met Patrik when we were doing a TV show together. He played some of these songs for me back then and I also got blown away by his songs. We said to each other that we had to work together in the studio in the near future, but as we worked with a lot of projects at that time it turned out to take 10 years to fulfill our plans about playing together… We started out making new versions of the old songs, with no real plan of releasing any of it, but Per said to us that we had to make a serious attempt to get a record deal. Our materials almost had been put away for 15 years!!! And so we did – so what you have listened to is the demo we made, which led us to sign with the german record company AOR HEAVEN. We're right now finishing the last parts of the forthcoming album "REPLAY", which is planned to be released in May. It will contain 12 songs written between '82 – '95 and could be described as a pure 80's styled AOR album. Besides me and Patrik the musicians on the album are studio musicians specially picked by Patrik to get the best possible result of the songs and getting that special sound and style we were looking for. We really hope that you will be as satisfied as we are with the album.
Best, Roger Ljunggren (guitar player for T'BELL)
As he told, T'BELL music is 80's style AOR. Catchy, pop and neat (and of course heartful). The best expression for their music could be "You want to sing along with their songs." If you like Mikael Erlandson (he's popular for Japanese melodic hard pop maniacs) you should try T'BELL definitely!!!
(Discography)
REPLAY (AOR HEAVEN, 2000)