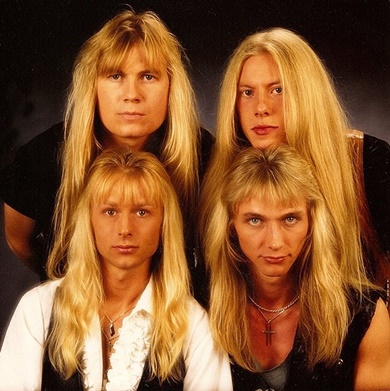 (Front) Benny Petersen (G), Brian Rich (Vo)
(Back) Per Fisker (Ds), Søren Hee Johansen (B)
Here is an e-mail interview with Benny Petersen (G) and Per Fisker (Ds) who used to play in JACKAL from Denmark to talk about memories of the band. Also Benny talks about his upcoming album, Per talks about his latest band GRUMPYNATORS.
S-ROCK: Who are joining us in this interview this time?
Benny: As for now sitting in a plane on the way to HONG KONG Benny will answer.
Per: This is Per Fisker, drummer of former JACKAL.
S-ROCK: Any interesting stories from Japan Tour 1994? You guys toured in Japan with MASQUERADE from Sweden, what do you think about them? Did you know the band before the tour?
Benny: Was way cool to experience the dedication of the Japanese audience. They were kinda freakin out on the songs and some threw real nice handmade banners on stage. It was so good experience.
I didn't know MASQUERADE before going to Japan and I was delighted listening "SURFACE OF PAIN" as some songs from that album was playing in my head on all of the tour. I still like the music a lot and have respect for what they did. Also they are real nice guys. I remember that in Osaka Tony was backstage playing the twelve string Takamine lent from ZERO CORPORATION. He was playing songs from BLACK SABBATH "MOB RULES" album, I think "Sign Of The Southern Cross", I liked that as it is one of my favorites.
Per: Actually quite a few good stories. Especially in Tokyo, the whole infrastructure with highway lanes in multiple levels in between skyscrapers. Also the state of the art studio where we recorded some acoustic stuff and of course all the super nice fans who actually was waiting on us in the airport. I felt like a star 🙂
A awesome band, super friendly and also pretty serious about their music/business. Actually I'm still in contact with the bass player once in a while. No, not at all (know about MASQUERADE)
S-ROCK: After ZERO CORPORATION was closed, Toru Hashimoto started a new company and now he owns his restaurant and cooks by himself there. Any stories with him?
Benny: On the first night Toru Hashimoto came in his black coat with his black hair talking of his new car asking "What color do you think my car is?" Of course his car was black. He took us to some nice Japanese dinners and made us feel good. I still think that the black Takamine twelve string guitar he was bringing should have made it back home to my studio in Copenhagen.
Per: First time I meet him was like meeting a superstar. He came in his super nice sports wagon and parked it in a super advanced car park facility. Things we never had experienced before and certainly not in small Denmark. He joined us for a dinner and was very nice to all of us. He made an excellent impression and I was very proud to be on his label.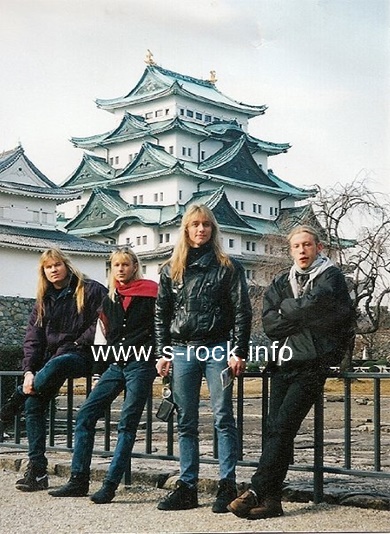 at Nagoya Castle, in Nagoya on Japan Tour 1994.
S-ROCK: There was JACKAL Fan Club in Japan in 90's, any memories about it? 
Benny: The guys from the JACKAL fan club made some real nice magazines with lots of stories and drawings from when we were there. The noticed and remembered so many details that made it really fun and unique to read. I still have the magazines at home and actually they are lying on the desk in the shared area of my house as I am having some Japanese guests and tenants that find it real interesting to study.
Per: I was always in contact with the Japanese Fan Club. Super dedicated and very sweet people, who are still my friends today. They did a lot of very cool things, and even made a meet and greet with fans and us for the gig in Tokyo.
S-ROCK: This is a kind of sensitive question, there was a traffic accident during the tour with FREAK OF NATURE, and Brian Rich got injured seriously. And your label didn't wait until his complete recovery, then JACKAL broke up. If there had not been that accicent, and the label had waited, do you think JACKAL would have continued?
Benny: The band was actually on top of the career at that time with the motivation to go. I believe that nothing would have kept us from continuing the band but the accident on the way to Hamburg was giving the band a hard time as it was generating strange vibes and uncertainty in the band as well as Brian's mind was affected towards the accident.
I believe that if it was not because of the accident the band would have continued and at least have made another album.
Per: The accident happened more or less right after the release of "A SAFE LOOK..", and we couldn't play live without Brian, because Brian was sick for a long time after that. Brian was the main force of JACKAL, so that accident was certainly the beginning of the end for JACKAL.
S-ROCK: After JACKAL broke up, you 2 started ENCORE with Carsten Olsen and Jesper Bang. You guys released "FREE IN CHAOS" in Japan in 1998. Was this only for Japan? And the album title sounds a symbolic meaning of departing from JACKAL?
Benny: Creating and releasing the ENCORE album "FREE IN CHAOS" was a bit apart experience. Per, Carsten and I came up with some money, equal parts, Jesper couldn't do any. We spend the money in making the production but when we had the final result in our hands, being twelve kind of different songs, the guys lost their interest and enthusiasm for taking it further. The twelve songs was pointing out in different directions and suddenly Carsten wanted to go specific in other direction of being intellectual having glasses without strength in the attempt of creating and image and sound far away from where we started. I left the band and the band continued for some months on their own writing new songs in other direction in trying to reach a different level and they ended up breaking up the band.
In the meantime nobody cared about the recordings we already did and I decided to go for a release. I thought it was a shame to waste the already recorded material and I went for a release. I was keeping up the initiative and started doing the artwork, lyrics and stuff for cover and inlay. I only went for a Japanese release and will maybe still go for a release for Europe and rest of the world at some point.
Per: Yes, only released in Japan. Well, maybe Benny had that in mind, but I really didn't. For me it was just a title.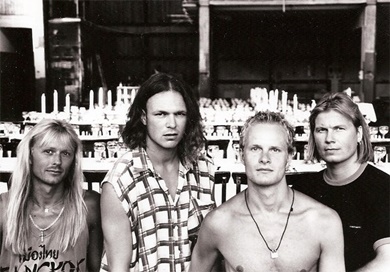 ENCORE (L to R) : Benny Petersen (G), Carsten Olsen (Vo), Jesper Bang (B) and Per Fisker (Ds).
S-ROCK: In 2009 Brian Rich released "IV" album as JACKAL with another guys, he owned the rights for the name JACKAL, didn't he ask you guys to join him to record that album?
Benny: Actually Brian did not own the name JACKAL. He came up with the name but hence it represented the three albums made by the band it became a trademark for what we were doing together. In fact Brian did ask me to join him. I was in the rehearsal with the first line up playing the songs for months sometime before the album was recorded. It was not the exact JACKAL feel and there were some disagreements between the guys in the band. Besides that I was very busy restoring a house that I bought back then, so I decided to fade out of the project. Brian ended up recording the album supported by just one musician, Carsten Falkenlind that owns "Fifth Vision" studio. He is multitalented and could produce the album as well as he played the drums, bass, guitar and whatever to put underneath Brian's vocals. Falkenlind is a very good friend of mine and when Brian died he left the newly recorded cue vocals for a birthday present for his girlfriends Jeanette's forty years birthday with the title "Something Somehow". Unfortunately Jeanette also died a few days before her birthday and Falkenlind and I decided to fulfill the song in two days before the funeral, recording guitar, bass, drums, additional vocals and arrangement. The song "Something Somehow" made it to the double funeral and can be found with lyrics on YouTube.
Per: I had very little contact with him for many years, so no, he didn't ask me. I also quit playing drums after ENCORE, so he would have had no luck with me at that time.
.. but in 2012 we all actually got together at Benny's place to talked about a reunion. I turned it down, because I was about to start in GRUMPYNATORS.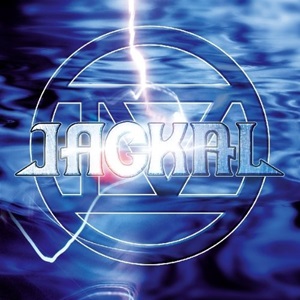 "IV" album released in 2009.
S-ROCK: Another sensitive question, Brian passed away in April 2013, Did he have any problem which caused him to leave this world after the accident?
Benny: For 15 years Brian was with Jeanette and she was the guardience of his life. When Jeanette died Brian's life kind of stopped. The day before he killed himself I talked with Brian for hours in the evening and he explained to me that everything he had to hold on into this life with was the words I was telling him as I encourage him to stay alive, telling him of the flowers blossom, the birds and the bees and the sun that will continue to rise. Unfortunately this wasn't enough as Brian in a modern world Romeo and Julie story killed himself in the name of love. If Jeanette was not alive, he didn't want to go on… so so sad…
Per: Brian lost his girlfriend and soulmate just 14 days before. She took her own life. Brian couldn't live without her, and he took his own life. A very sad story.
S-ROCK: Per, you joined GRUMPYNATORS in 2012 and started professional music career again. would you talk about the band?
Per: Well, yes I did start playing again with good friends I had known for almost 30 years in another context. I started out touring supporting VOLBEAT for 5 gigs in Denmark, and after that we have played more than 125 concerts around Europe. We did make 2 CD singles before getting signed by Mighty Music. On that label we have recorded 2 albums, "WONDERLAND" from 2015 and "CITY OF SIN" from 2017. Now we are in the middle of making songs for our 3rd album, which we expect will be released in 2020.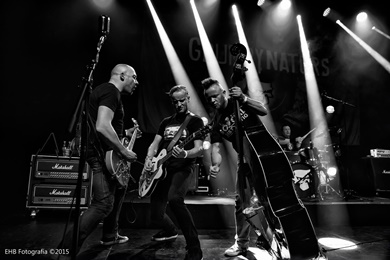 GRUMPYNATORS
S-ROCK: Benny, do you work for any music after ENCORE?
Benny: As long as I've been playing music, started when I was twelve, I have always been a composer. In JACKAL I composed most of the music and I am still composing music.
Actually for about ten years I've been working on the release of my double album "OctoberChild", which I've lately decided to split into two albums.
On 14th of December 2006 I lost my son Nicholas at the age of 21. That kind of stopped my life and for more than three years I was stuck and could do nothing but feel the pain. When I started writing music again and opened up my mouth, speaking out my heart, everything that was on my mind was the pain and defeat from the huge lost.
In my house in Copenhagen I have a recording studio and the first song I wrote and recorded in 2010, was "OctoberChild". The writing and recording of "OctoberChild" took approximately seven months and forced me to go through all the pain once again as this is the naked witnessing from the heart of what went on in the biggest disaster of my life. "OctoberChild" is a celebration dedicated with pride to my son. I am of course writing and composing everything as well as I do all instruments including lead vocals.
With this done I was once again up and running and by 2011 I went straight into composing the masterpiece "RainDance". This time I had a little help with the drums from my friend Henrik Stendahl from the band SLAUGHTERHOUSE but besides that, again as for the rest of the songs I performed everything.
Third song was "Beat Heaven", written like a confession/testament as to overcome life and death in one piece I had to overcome heaven which is of course in the real-time the impossible mission…
I kept writing and recording, "Waiting For Daylight", "Before We Even Tried", "May The Angels" and "Arrival – This Happens"…
"Arrival" I actually wrote as an instrumental for the third JACKAL album "A SAFE LOOK IN MIRRORS" but for Interesting reasons it never made it to the album. Also that song will include very nice and interesting story but that will be in a later review.
These first seven songs are going to make it into the first record with the album title "OctoberChild" as my son Nicholas was born in October.
All songs I write are containing experiences from the present reality as I revealed having the skill of reflecting what goes on in real life into lyrics and music.
Brian was with me, co-assisting me on the vocals and the production up till the fourth song as he died in 2013. Brian told me that Jeanette and him often had some days where they were only listening to what they called "Benny-music". This is due to all my music is very original.
Three weeks ago Carsten Falkenlind co-produced and mastered "Beat Heaven" and it sounds fantastic.
Watch out for the new album "OctoberChild" set to be released on 18th of October 2019. Hope it will be possible to keep this timeframe.
The artist name will just be Benny Petersen.
S-ROCK: What is Søren Hee Johansen doing these days? Seems he left FB and not easy to find what happens to him now.
Per: I have no clue. I did visit him one time years ago. As I recall, he work with IT, but still plays bass. I have not seen him since we had the get together at Benny's place back in 2012.
S-ROCK: Your messages to your Japanese fans from JACKAL era. Mange tak!
Per: Thanks to everybody who supported us at that time and came out to see the shows in Osaka, Nagoya and Tokyo. It was a great experience I'll never forget and most likely never experience again. Domo arigato 🙂
Benny: The memory of 1994 December Scandinavian White Christmas Tour in Japan still live in me. Thank you Osaka Nagoya and Tokyo for the good experience.
What kept me going back then in the days of JACKAL and what have always kept me going is to come up with cool guitar riffs, creating catchy grooves and hearing nice melodies on top inside my head. Watch out and stay tuned for albums coming out shortly, first one will be "OctoberChild". It contains a lot of life stories and is beautiful melodic like the Japanese fans will like.
GRUMPYNATORS Official FACEBOOK: https://www.facebook.com/grumpynators/