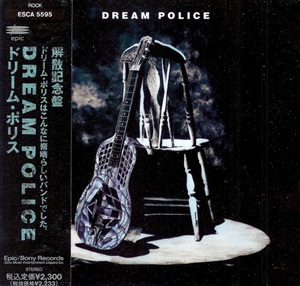 Japanese release with a different jacket from Norwegian release, the OBI says "The memorial album of the band's breakup".
From NHRSPG (previous one before S-ROCK) vol. 1 published in 1993. The latest album at that time was "MESSING WITH THE BLUES" though, we got those autographed answers from the band in 1991 when their latest album was "DREAM POLICE".
Scanned files from the issue are online as we don't find original papers.
Band members of DREAM POLICE in 1991:
Odd René Andersen (Vo)
Trond Holter (G)
Rino Johannessen (B)
Ole Petter Hansen (Ds)
(Questions)
1. Let us know your new album (ex. album/song titles)
2. How do you take care of your throat? Let us know how to sing well like you. (To Odd René) / Your equipments (guitars etc., To Trond) / (bass etc., To Rino) / (drums etc., To Ole Petter)
3. Your favorite bands/artists these days.
4. How about movies/books? How did they inspire you?
5. Your dreams about your band.
6. How do you describe Norway? What are you proud of your country most?
7. Your "detailed" career before DREAM POLICE.
8. What is your motto in your life?
9. Would you give an exclusive message to your Japanese fans?