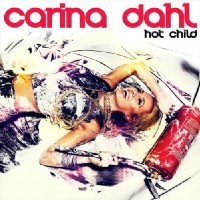 *She's more than an artist who has her father as a professional drummer*
Probably fans of Scandinavian metal, especially melodic HR from Norway would notice when they hear her family name? Carina Dahl, who is a daughter of Diesel Dahl who plays drums for TNT, released her debut album last year, participated in MELODI GRAND PRIX, Norwegian EUROVISION SONG CONTEST. She has re-released the album including "Guns & Boys" which she sang at MGP as "HOT CHILD 2.0". On this album Torstein Flakne (Vo) and Morten Skogstad (Ds) for STAGE DOLLS play for her.
S-ROCK has an e-mail interview with Carina. We sent questions to her before MGP, and she replied after the contest.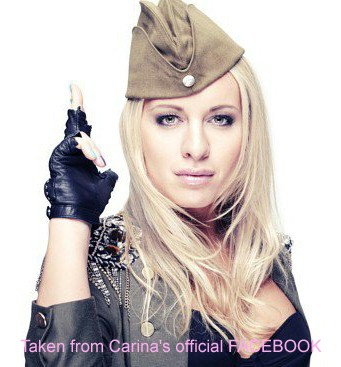 S-ROCK: First of all, would you introduce yourself, I guess this is the 1st interview of yours for people in Japan, some people already know you though.
How did you start your music career, since you were born music has been always around you all the time and your father is a professional musician. Did he give you any advice?
Carina: Of course! I'm Carina Dahl, brought up in Norway with my hardrocking dad Diesel Dahl from TNT and my mami Inger Lise Dahl. I grew up on the road, and got introduced to music very early. Started recording at age 15 at Ronni Tekrø's studio Nyhagen in Toten! I got signed by a swedish label, TMC Nordic, in 2009, released the 3 singles "Screw", "Crash Test Dummy" and "Guns & Boys" from my first album Hot Child 2.0 that released in January this year!
I also entered the norewgian Eurovision Contest this year! (MGP)
My dad just tells me to work hard, prove my talent, have fun & be a star! Hahaha!
S-ROCK: Let us know your favorite musicians and bands? Which is your favorite song and album?
Carina: I of course like rock, i mean, it's in my blood. But because of my dancing background I'm into Pop too. I listen a lot to country aswell. I'm a true music lover. And I guess my favorite artist are Pink, Taylor Swift, Rihanna, Katy Perry, Keith Urban..To  mention a few!
S-ROCK: What is your goal as a musician? how about as yourself?
Carina: I would really love to just play music 24/7, touring is my favorite thing to do. And I really dream about coming to Japan to promote my music! My dad tells me a lot about Japan and his experiences from your country. So my goal would be to do music full time, everywhere 🙂
A goal for me as a person is to remember to enjoy everything & say yes to the chanses  I get. Experiences & adventures! You live once. And always treat people nice & with repect… That's a small step in world peace.
S-ROCK: You participated in BIG BROTHER in Norway, what did you think during the program? Did that experience give you any influence?
Carina: I think I was 19 when I entered BB and I was there 107 out of 114 possible days. It was an experience for life. We got to do so much stuff that you never would in "normal life", created our on world inside that house, and I really learned to handle different personalities. I'm happy I got to experience that adventure.
S-ROCK: And you started adding your music to iTunes, finally released your 1st  album "HOT CHILD" on CD in December 2010. Pop & melodic tracks which make people want to sing along. You wrote some tracks, how do you start writing a song,  what gives you inspiration and ideas for songwriting?
Carina: Hot Child first got released in December, but after entering Eurovision Song Contest I had to add that track ("Guns & Boys") to the album too. So after the contest i released the part two of the album; Hot Child 2.0. I wrote half of the songs on the album, and actually the 3 songs that are single from the album I participated with writing. that's cool 🙂 Everything I write are stories from my life. If I'm heartbroken I write about that, and if I feel really independent and just enjoying life I write about  that. Also stories from others can give me inspiration to write lyrics. And if I hear a good line, it can turn out to an entire song 😉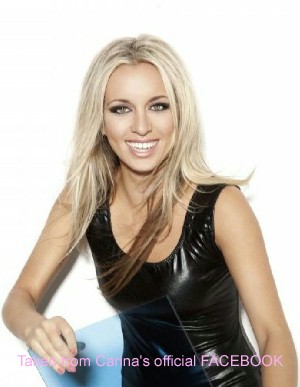 S-ROCK: Would you talk about the producer, musicians and songwriters for this album? We know Torstein Flakne and Morten Skogstad for STAGE DOLLS.
Carina: I have a really good relationship with my main producers & song writers Hallgeir Rustan from Stargate Norway & Sigbjorn Holmslet. That's why even the songs I did not participate in writing, actually are stories from my life anyways. Because I talk so much about everything happening in my life with the guys. We are good friends. Like the track on my album that i did not write; "Hot Child", which my album got named after, is a real story from my life. And I got so suprised when I came to the studio one day and Hallgeir told me, "Hey we wrote a song about that thing we talked about last week" .. It was so weird hearing my own story through the guy's lyrics. So I wanted to name my album after that, and also I think it's a real good title that matches me well 😉 I love STAGE DOLLS, and grew up with their music and being in my life. The rockers from Trondheim are all good friends. So it's so natural for me working with friends of my family. Both Torstein & Morten are really talented..
S-ROCK: You've participated in MELODI GRAND PRIX (MGP), we know you can't talk about your track for MGP in detail, would you tell us anything on it? Really sorry we can't watch the program from Japan (outside Norway it's hard to watch live broadcasting online)
(S-ROCK: Questions for this interview were sent before MGP, she answered after the contest)
Carina: I did not win the MGP unfortunately. But it was great fun!!! "Guns & Boys" is about being independent and actually NOT searching for the man of your dreams at a point. There's tons of songs about how sad you are, and to not have someone in your life, but why cry? It can be really fun to go wherever you want, whenever you want to, with whoever you wanna go with 🙂 I mean, love is great, but I can really enjoy being  single and having fun in other ways at periods in life. Focus on that instead of being heartbroken 😉
S-ROCK: Would you give a message to your fans in Japan?
Carina: I just wanna say that I really hope you guys enjoy my music & invite me over soon!!! I really can't wait!!!!
(Discography)
HOT CHILD 2.0 (TMC Nordic, 2011)
New version of the album including "Guns & Boys" which she
participated in MGP with.
HOT CHILD (TMC Nordic, 2010)
Carina Dahl official website: