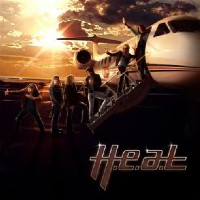 H.E.A.T, a new, fresh and young band from Sweden finally released their debut album in Japan. It was out from MARQUEE/Avalon on the 21st of January 2009. There are many bands which remind us of the 80's music though, it's really amazing that a young band like H.E.A.T comes out with their tracks and album with great quality, which attract people who experienced 80's music in 80's absolutely.
This time Eric Rivers (G) and Dave Dalone (G) joined Jona Tee (Key) and they answered questions for our e-mail interview.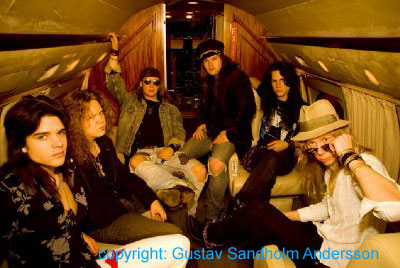 (L to R) Crash (Ds), Jimmy Jay (B), Jona Tee (Key), Kenny Leckmero (Vo), Eric Rivers (G) and Dave Dalone (G).
S-ROCK: First of all, would you introduce yourself and describe each member of H.E.A.T? And how did you guys get together and start the band?
Jona: I'd say that each and everyone in the band has their own personality and at the same time we're quite equal-minded. Everyone likes a good time and to hang out and of course to play live. In all shortness: Jimmy's the storymaker, Rivers is the "pal", Dave is the funny guy, Kenny's the frontman, Crash is the "wanderer" (you never know where to find the guy, haha). H.E.A.T is in fact a merging of two bands called TRADING FATE and DREAM. Kenny was the singer of both bands. TF was more into heavier music, DREAM had more of the H.E.A.T sound. When TF began to play more of the 80's style music the merging was not far away! So in early 2007 we had a great jam session/rehearsal an entire night with the members and everything felt perfect! We had known each other for several years though since we were based in the same town and everyone went to the same highschool in Stockholm!
Dave: Jona is the Teddybear.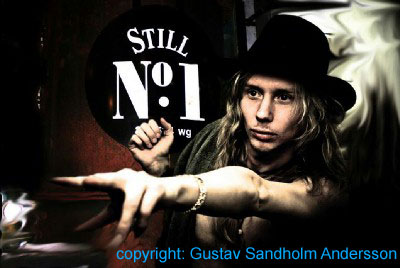 Dave Dalone (G)
S-ROCK: Now you guys are touring in Europe, how's the tour so far? Did you find any difference of the audience in countries you visit?
Jona: I tell ya. Europe is AWESOME! Everything is going very well and the crowds has been above ALL expectations. Last nite (January 16th) in Madrid was insane!! There is a certain difference between the countries. Some are more wild and hardrockin, some are more observing and basically enjoys listening.
Eric: The biggest difference between Sweden and other countries is that the crowd is there from the start. In Sweden people always drop in late, and misses the opening act, but in most other countries, the crowd is there from the minute the first band walks on stage.
S-ROCK: The debut album "H.E.A.T" was out in Europe in spring 2008, in Japan on the 21st of January 2009. What do you want people to pay attention on the album? Let us know your favorite songs from the album.
Jona: Well, we of course want people to enjoy the album in it's entity. It's like a journey we present to you guys. From the start of the Intro we wanna take you on a flight thru time and space. If you're into straight up hard rock music you should check out songs like "Never Let Go", "Feel It Again" and "Keep On Dreaming" and if you're mellow-minded then look no further than "Cry" and "Follow Me".
S-ROCK: What do you think of music scene in Sweden these days?
Jona: The music scene in Sweden is quite rich. I mean, there are MANY bands out there playing good music. The commersial scene doesn't really follow my taste. It's quite american based. But there is quite a few good hard rock bands here as well. We're trying to get hard rock back on the streets in a greater scale than it is at the moment and I really think it's rising day by day!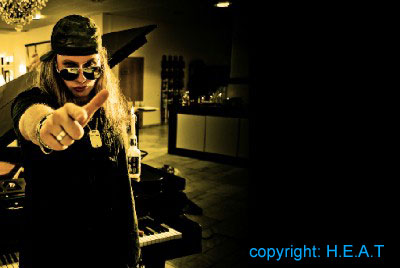 Jona Tee (Key)
S-ROCK: What do you image from a word "Japan"?
Jona: I instantly think of honest people, people with a different culture than ours and of who I'm very curious about. Big cities and buildings, ninjas and martial arts! Yeah!
S-ROCK: What is your goal as a musician? How about as yourself?
Jona: My goal as a musician is to write and perform kickass melodic hard rock music to you guys and people all over the world! I would love to tour the world and let people feel the heat for many years to come! I think that those words describe my personal goals as well, career-wise that is!
Eric: Well, what Jona says basically. Playing music is first and foremost to satisfy yourself, but also to spread your music, and share the vision with people all over the world. For me, the biggest kick is to be on stage and see an entire crowd singing and loving your songs.
S-ROCK: Let us know your music career and what kind of music you used to play.
Eric: We have all been playing music since we were like 10 years old. I mean, I've been playing with Jimmy since I was 10. We all have a passion for music and playing, and thats why we do what we love the most! I think all of us have been in to a bit heavier music than what we play now, but we're all very open to different styles of music… I belive that there are no bad genres of music only bad songs. And you need to listen to different styles to get inspiration to write good songs!
Jona: The story is quite the same for me and Dave. We've known eachother since we were 7 years old and was in the same class for 12 years! I remember us having our first gig in the classroom when we were like 11 years old, me on the piano, dave on the guitar and some dude on a saxophone! Probobly sounded like crap, haha! 2 years later we became total MAIDEN freaks! 🙂
S-ROCK: Let us know your taste of music, your favorite musicians/bands.
Eric: As mentioned in the previous question, we listen to a very wide variety of music. But of course we love 80's bands like EUROPE, GIANT, BON JOVI, FM and so on, but also going back to the roots like DEEP PURPLEe and early WHITESNAKE. I know Dave love his blues, Kenny and I love our soul like Marvin Gaye and Otis Redding, Jona loves IRON MAIDEN, Jimmy loves PINK FLOYD. No one knows what Crash listens to, haha.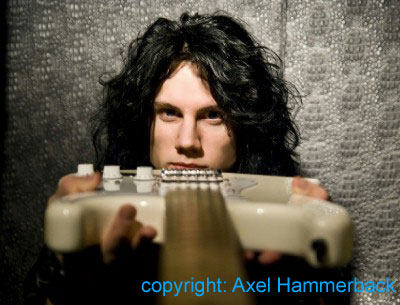 Eric Rivers (G)
S-ROCK: Any future plan which is confirmed/not confirmed yet? How about next album and tour?
Eric: Well, we're on a European tour as we speak. We also have a UK-tour in the planning, plus a Sweden-tour in April. We are writing songs for the next album, which will probably be recorded this year. We gotta top this record, right? 🙂
S-ROCK: A message to your Japanese fans who visit S-ROCK site, please.
Eric: We are thrilled that the album is finally released in Japan and really hope that the people and readers of S-ROCK will love our album. We really hope that we can come to Japan to play soon, we heard that the Japanese crowds are absolutely great, and we would love to visit your country! And of course: Keep on dreaming!
(Discography)
H.E.A.T (StormVox 2008, MARQUEE/Avalon 2009)
H.E.A.T official website:
http://www.heatsweden.com/