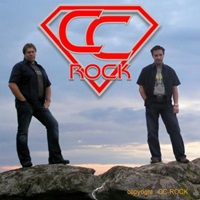 *New AOR project from Sweden!*
A new AOR project from Sweden, CC-ROCK with Peter Lundin and Anssi Alatalo. They come from the same town as T'BELL guys and finished The EP with 4 tracks with help from Patrik Tibell and Roger Ljunggren for T'BELL. They're looking for a label to have a contract. Not only fans of AOR and T'BELL, but also melodic HR fans will love their music! S-ROCK had an e-mail interview with the guys.
(added in February 2007)
The tracks on CC-ROCK – s/t which was out on the 21st of February 2007 will not be on their full album in the future or other CDs, if you're interested in their materials, please buy the mini album!
S-ROCK: First of all, what does the band name "CC-ROCK" mean?
Peter: Actually it came from my own internet domain, which I had for my own use. We thought it sounded cool, so we decided to use it as a working name, and it's still there.. There are no thoughts behind the name except it did sound pretty cool and fresh.
Anssi: It just don´t mean anything, we just took the website name that Peter owned, thought it sounds cool..
S-ROCK: Would you introduce each of the tracks on the EP? Which track is your favorite?
Peter: When we started the project our main purpose was to create a record that had the melodic power of the eighties but with more energy, and a new and more modern production. The energy in the songs was important for the whole project, and now, with the EP in our hands we're more then thrilled, by the way it turned out.
Wanna Feel Like The First Time:
This track has the strongest AOR feeling in it, with a magnificent chours and a wonderful melody that brings back memories from the early eighties.
The Best I Can:
This is the track that actually got us going with the project. It is a track that has a lot of energy and a pure rock' n' roll feeling with aggressive guitars and straight ahead melody.
Angel:
This is a fantastic song, it gives me goose pimples. This track sticks out a little bit from the other tracks, with a refrain that absolutely blow your mind of.
My Special Lady:
Energy, pure energy, and more energy. I love the guitars in this track and it is just a perfect finishing track of the EP. When the track has ended you just want more…could it be better.
When it comes to pick a favourite it's hard for me. When I listen to a track it's my  favourite at the moment, and when the next track plays that's my favourite. I have really tried to pick a favourite, but I can't…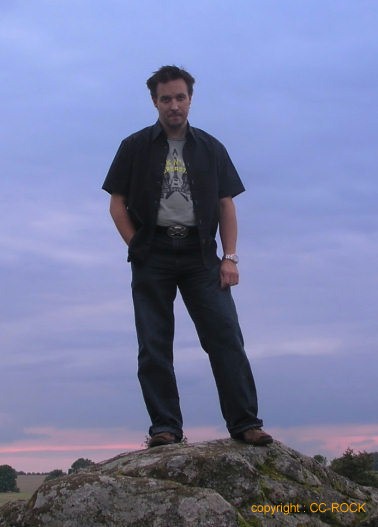 Anssi Alatalo (G)
Anssi: The songs have a little bit different style, to cover as many listners as possible, my favorite track is "My Special Lady". But every song has is own good parts.
S-ROCK: What inspires you to have ideas of creating music?
CC-ROCK: Our insperation do we get from the world and friends around us. It is sometimes very hard and stressful, but it is also filled with a lot of pleasent moments. We're trying to catch those small moments in the life.
S-ROCK: Any intersting story during the recording?
Peter: All the laugh, we had together. There are a few crazy stories but this isn't the right place…
Anssi: We were always amazed how Patrik bringing the little extra and listen to us how we wanted it to sound.
S-ROCK: Would you describe your partner for CC-ROCK? How about yourself?
Peter: Anssi is the calm and safe person of us. I have known Anssi since the early childhood and we grew up together under the eighties with one big interest..the music. We went to see all the shows and got crazy together. He has always been one of my absolutely best friends in life.
Myself??? I'm the crazy one I think. I like to have fun all the time, and love to see people laugh.
Anssi: I have known Peter since the early -80th i always thought he is crazy rock dude and good friend, he always been the mad and funny guy.
My self:I have always been the quiet background guy who always going my own way.
S-ROCK: How did you get to know Patrik and Roger? How do you describe each of the guys?
Peter: I meet Patrik when we we're planning to do this project, I have only heard 'bout him before. To describe Patrik for me would be something like this: A guy who is a extremely talented musician, and a hell of a producer, and who could catch the feeling in the sound we we're looking for.
Roger and I got to be really good friends also through this project. We have always  had mutual friends. Roger is one hell of a guitarist, songwriter and inspiration for me. Everything he do is made by perfection and he has that little fingertip feeling when it comes to create music. Besides that he is a very very good friend.
Anssi: Patrik I known since the time he played with TRACE. Patrik is very funny guy, who says what he want.
Roger have I known since the mid-80th as musician, but also as a friend. Roger is Mr.Perfect him self and he is always on time, and one hell of a guitarist.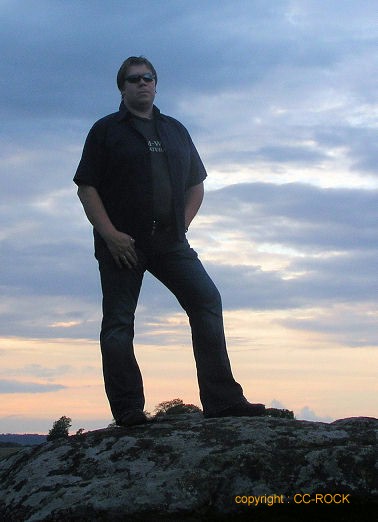 Peter Lundin (G)
S-ROCK: What is your goal as a musician? How about as yourself?
Peter: My goal as a musician has always been to have fun and share a mutual interest with my friends. The feeling of being a part of creating something that effects other people and bring them joy is a strong driving force for me. This is one of my goals in life to, try to look on the bright side of life and hopefully bring that feeling to others.
Anssi: Nr.1 is always to play for fun.
S-ROCK: Let us know your favourite musicians and bands.
Peter: This one is a tough one..I love to listen to music that get me outlet for my feelings. I listen to everything from CHICAGO to MOTORHEAD. But at the most it is music such as JOURNEY, TNT, and a lot of the 80's heavy metal scene.
As an musician I love great guitar heroes, and a lot of Blues guitarists. Blues players have always been a great influence for me.
Anssi: To many but here is some: Brent Mason, Eddie Van Halen, Steve Morse, KANSAS, Jay Graydon, DREAM THEATER, A.C.T, MOTORHEAD, Shania Twain.
S-ROCK: Would you give your message to your fans who read this interview?
Peter: I really really hope that you will like, love and find the happiness in this EP. And of course have a great time listening to it. Have all the best…
Anssi: I hope you love the songs as much as we already do..hope to see ya one day.
(Discography)
CC-ROCK – s/t (MICP-10641)