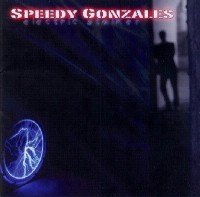 *The legendary band comes back*
The legendary band SPEEDY GONZALES which left a demo tape with 8 tracks and "disappeared" finally comes back! The singer Thomas Vikström and guitar player Tommy Denander who both ever work for many bands and projects, they have Marcel Jacob (B) and Daniel Flores (Ds) this time and recorded previous songs again,
added some new songs. Their album "ELECTRIC STALKER" was out in Japan from GENCROSS/ATTIC ARCADE on the 23rd of November 2005. In Europe it'll be out from AOR HEAVEN in January 2006.
This time we had an interview with Thomas Vikström through MSN Messenger.
S-ROCK: How did the band start?
Thomas V: Okey…It started right after TALK OF THE TOWN splitted. Me and my old friend Tommy Denander started to write songs together and it went of so well so we said: Let's start a band!! We later on had Mats "Dalton" Dahlberg on the drums, Thomas Ahlstrand keyboards and Staffan Linder on the bass. So most of the songs on the album were written back then!
S-ROCK: According to GENCROSS, The band name "SPEEDY GONZALES" came from a Warner Bros. cartoon. Who brought the idea?
Thomas V: Ha ha good question…At that time Tommy was a little bit chubby and over weight and he's not so tall. We putted a mexican poncho on him and he looked exactly like Speedy Gonzales!! I like the name!! I remember he came up with it when he looked in the mirror!
S-ROCK: The band stopped activities in 1992, it's just because you joined CANDLEMASS?
Thomas V: No! We did not get along too well at that time. There were a lot of personal problems in speedy at that time unfortunately! So I got tired of it and when CANDLEMASS asked me to join I jumped aboard at once!! But today we are grown up men!! Well…a little bit!!
S-ROCK: How do you describe each song from the album?
Thomas V: Desires Of The Flesh: One of the new tracks. It's a straight forward heavy metal song. It's about those sick people in Austria. One of the guys announced after a guy who had a desire to be eaten up alive. And he got an answer, they met and ate him bit for bit until he died. The story is true happened last year I think! There is a lot of twistwed minds out there.
Dominator: Fast and agressive with a lot of inspiration from RAINBOW's "Spotlight kid". Wrote the lyrics together with Anders Tegner. It's About a Bombplane (WWII) named The Dominator and it's pilot. One of my favourites!!
Men With Medals: A Theatrical ballad. Originally called The Death Row. Anders Tegner Changed it to Men With Medals. Because of the war in Iraq that was goin' on back then.
Spit In The Hand That Feeds You: A song that is new. A lot of old TALISMAN sound in it I think. It's about my ex-wife who constantly asked for things and money while she was notoriously unfaithful behind my back!! A lot of anger in that one! Even if it's very commercial and melodic song! You can spit in the hand that feeds you..that is what she did!
S-ROCK: Sorry to hear what happened to you.
Thomas V: Yes, but it's over now.
Lust And Desire: A fast typically eightes song with a very eighties lyric…A good live song!
Elecric Stalker: A new track which I wanted to sing in falsetto style because it's so fun and suited the song well. It's about that feeling you can have sometimes that something or someone watching you but nothing is there. I like it!!
Make Love In Red: Is about a lady I once met (way back) That had worked for the old KGB in Russia……Very childish lyrics, but we were childish at this time and the eighties and the early ninetees was like this! But… Even though i'm older today I'm still a little childish …Good punchy chorus!!
Free Like An Eagle: Well the song speaks for itself. Re-recorded TALK OF THE TOWN song. I wanted to try to sing it the way I sang back then! Not as easy as I thought!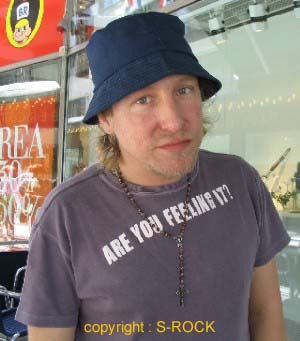 In Stockholm, June 2005.
S-ROCK: Really? You did a very good job for the song.
Thomas V: Thank you!!!!
Shock The Nation: *laughing* I remember Tommy came up with that riff and we started to write. And the song just never ended…A typical album track!!
Flash Of The Blade: A very cool song in my opinion. The riff Tommy came up with is a killer! Originally we had rap in the verse parts. But it sounded very crappy so I went into the studio now and just improvised around the words. I like the lyrics!!
Do You Know Where The Kids Go: A song that has been around like forever. We did it with TALK OF THE TOWN but we changed the title to "Is It All That You're Good For", But we took the original lyrics back. It's about look after your children and take care about them!!
Trial By Fire: A song that I had a hard time to write melody and lyrics around. and I like easy work so this is the poorest song on the album in my opinion. But it's not bad!
S-ROCK: Any plan to do some gigs with the band? And any future plans?
Thomas V: Yes!!! We really want to do gigs everyone of us! It's only about if someone asks us!! We will be there!!
S-ROCK: You should come to Japan as well.
Thomas V: I am soon the only one in this business that hasn't been to Japan! I would love it!! But I know I have people over there that like my work!
S-ROCK: How do you describe other members in the band?
Thomas V: Okay!!
Tommy Denander: A guy I can sit and laugh together with on the phone for hours (And I'm not a phone guy) And the most talented guitar player I ever met. A great songwriter also. And a very good keyboard player!! A guy with a BIG heart!!!
Marcel Jacob: I was touring with him in Talisman. I had a lot of respect for him back then and I still have!! But I'm not afraid of him anymore…His bass ability is magic. And he is my opposite: "Think first then do". I am more of "Do first then think". Opposites attract and we are a good combination. A very good friend!
Our little drummer boy Daniel Flores: A great guy and a great drummer with roots in Chile, South America. Very easy to work with, very humble guy that will stand up for his friends whatever happens!! He is also the one in the band that every girl wanna go after!! (he is not free sorry!) It's time for me to leave the crown to someone else!!!
S-ROCK: And yourself?
Thomas V: Okay!!! Its very hard to describe myself, but I give it a try. I love to sing that's why I'm still doin it. I started to play the drums but I got to little attention. I'm a very kind guy that cries when I see E.T for example or the LION KING.. I'm always stressed on my way somewhere. I'm always late(but I'm working on it) According to the stress I forget stuff all the time. My friends and Particularely my girlfriend think I'm disorganized. Probably true!! I'm almost never angry, Live together with a girl and her two daghters an my kids and two dogs so….PLEASE BUY THE RECORD!!! I NEED THE MONEY….
S-ROCK: A question about yourself. What are you doing these days? We're looking forward to your 2nd solo album!
Thomas V: As you know I sing a lot of other stuff that is far from rock and heavy metal. I'm doing a lot of Christmas shows these days. I still writing on my solo album. Like I said before I'm never in time, but I will show up. And the album will be out!!!
S-ROCK: Would you give a message to your fans?
Thomas V: Please please let me come to Japan once!!! I have heard so much about you!! And I will sing for hours for you!!!!! I love you all!! Yours, Thomas V
(Discography)
ELECTRIC STALKER
Japan: GENCROSS/ATTIC ARCADE, November, 2005
Europe: METAL HEAVEN, January 2006