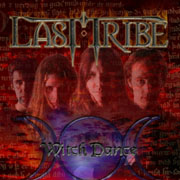 Magnus Karlsson was born in south of Sweden in 1973. He began playing guitar at age 10, and almost immediately started his first band. He studied classical guitar in school, but his band was into "The New Wave Of British Heavy Metal" and he listened to bands such as IRON MAIDEN, JUDAS PRIEST, DIO and BLACK SABBATH.
In 1989 Magnus decided to devote the most of his time to become a better guitar player and songwriter. His main influences were Steve Morse, Steve Vai and Allan Holdsworth. He played in different metal and fusion bands and developed a style that mixed metal with folk music. He joined a Celtic folk group in 1991 called HOT PEBBLE and toured in Scandinavia for two years as a guitarist and a banjo player.
In 1996 he started an education at MALMOE COLLEGE OF MUSIC and was awarded a master degree in "music education" 2000. During the time in college Magnus started to write songs in the metal tradition again and started LAST TRIBE. He also joined MIDNIGHT SUN on the "NEMESIS" album released in Europe in late 2000 by POINT MUSIC. Magnus got a lot of attention in the media due to his incredible skills and tasteful approach, including important magazines like YOUNG GUITAR, BURRN! etc.
LAST TRIBE was put "on hold" for a while, but Magnus kept on riting his own songs after the recordings and promotion of MIDNIGHT SUN. The final result is "THE RITUAL", the band's debut album which can be described as melodic metal with a touch of progressive elements and very strong vocals. The debut album that where released on FRONTIERS/NOW & THEN on June 25th is called "THE RITUAL" and was produced by Anders "Theo" Theander (PAIN OF SALVATION, MIDNIGHT SUN, SANDBERG etc.).
After a critically successful debut album "THE RITUAL" (87/100 BURRN! – 5/6 ROCK IT – 8/10 ROCK HARD – 6/7 METAL HAMMER – 10/12 HEAVY ODER WAS etc), the band faced the fact of topping such an album and Magnus started to write new songs for the follow up during the summer of 2001. Magnus has his own small
home studio that made it convenient for co-producer Anders "Theo" Theander to get into the new material. It was easy to realize that the new album had some really killer songs to work on. As the debut album got raving reviews from most of the important magazines in both Europe and Asia, this was a really important album.
In the meanwhile key members Magnus and Rickard decided to part ways with Kristoffer and Paeron this new album. They are all still good friends but the way the new album progressed, Magnus decided that this was for the best. The progressive elements are highly advanced and needed experienced musicians as Dick and Jaime.
Jaime needs no further introduction, as he is one of Sweden's top drummers and also a co-member with Magnus in MIDNIGHT SUN, therefore this choice seemed to be an obvious one. Since Jaime is no longer a member of THE FLOWER KINGS, he decided to join Magnus and Richard in the band. Dick Loevgren is a high profile bass
player and has been a good friend of Rickard for many years. Dick and Rickard have been working together in the ARMAGEDDON-project with Chris Amott, Daniel Erlandsson on the "EMBRACE THE MYSTERY" (TOYS FACTORY) album, who toured in Japan about a year ago. Dick has also toured with bands such as ARCH ENEMY and IN FLAMES. The lead singer of A.C.T, Herman Saming, is also singing back-up vocals on 2 songs.
(Taken from the official website of LAST TRIBE)
Their latest album "WITCH DANCE" is on sale from MARQUEE/Avalon in Japan/Asia (released on March 21st, 2002), and from FRONTIER RECORDS in areas besides Asia (released on April 22nd, 2002).
(Discography)
THE UNCROWNED (FRONTIERS, 2003)
WITCH DANCE (FRONTIERS, 2002)
THE RITUAL (FRONTIERS, 2001)