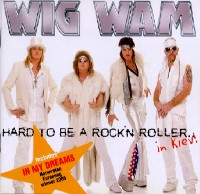 *Don't get misunderstood by how they look*
I've known there is a band WIG WAM since last year as I've been in touch with the webmaster of WIG WAM International HEADQUARTERS which will be launched on the 11th of April. But I got misunderstood by how they look, to tell the truth. I never imagined that they play melodic HR (in Europe it's called AOR), a friend of mine suggested me to listen to"The best AOR song in these 10 years" and gave the URL of MELODI GRAND PRIX at NRK site. 3 minutes later I was blown away! The song was In My Dreams! It contains everything fans of Scandinavian melodic rock want. Good melodies, chorus, catchy bridges…I'm really sorry that I didn't find much earlier. The killer album "HARD TO BE A ROCK'N ROLLER…in Kiev!" contains killer tunes with good melodies being both catchy and heavy.
Now S-ROCK proudly presents our interview with Glam, the singer for WIG WAM. We really appreciate his answers when the guys have been extremely busy since they won at MGP and when they are touring.
S-ROCK strongly suggests you people to listen to the album!!!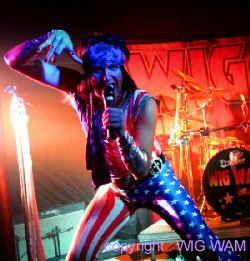 This guy is talking to us this time.
S-ROCK: First of all, congratulations on your winning at MELODI GRAND PRIX on the 5th of March. Last year you guys got the 3rd prize, so I guess you were definitely eager to win this time. Any nice (or funny) story from MGP?
Glam: To be honest with you, we didn't expect to win at all! We thought of ourselves as the band playing in the commercial break *S* But, it's of course a great bonus to win the whole thing even though you can't compete in music, and I'm not too big on sports. Funny stories from the festival? Well, you know there are always a lot of things going on all the time. The funniest part must have been winning the whole thing.
S-ROCK: Also congratulations on your #1 for In My Dreams at Norwegian national chart and at VG-lista! (I voted the song, too)
Glam: GREAT isn't it !!!
S-ROCK: We'd like to ask you history of the band as many Japanese rockers don't know you guys well. How did you come together to start the band?
Glam: Acctually Teeny called me up during 2000 for a jam session gig in one of Rock City Haldens sleaziest rock joints, and Sporty and Flash were also called. So we did these sessions just for fun, and startet to think about a comeback which we did February 24th, 2001. Teeny had been doing his own project DREAM POLICE and Ole Everude's stuff during the 80's, Sporty had done the SHA-BOOM stuff, Flash had done his ARTCH stuff and I had been doing loads of musicals, HAIR for example, and some soloprojects, and finally the time was right for rock'n roll AGAIN !!!!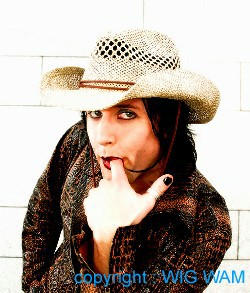 Glam (Vo)
S-ROCK: I hope you don't mind this question, we wonder if you wear the costumes and make-up intentionally or you really wanted to do it from the start? The reason why I ask this question is because your music is really melodic, "different" from how you look. You describe WIG WAM as a glam rock band, I think your music is quite in AOR (in European way – we call it "melodic hard rock" here) style. And there's a risk that would get people misunderstood by the image when they see you guys…..I thought it's your "strategy" of promotion of your own, and it's impossible to do it if you were not talented, without enough skill to compose and play.
Glam: I really to find any reasons why an aor band shouldn't be able to make a spectacle of themselves. I think it's a myth that aor music should be presented by anonymous bands. You CAN have your cake..and eat it too you know. The way I see it, we celebrate life and the fun things of life. Life should be a party, and when you go to a party you put on some colourful outfits and play some really good music right ? So do we ! Catagorising music is always hard, and I don't exactly know whether we play GlamRock, AOR Rock, Hard Melodic Rock, Poodle Rock, Heavy Rock or Pop Rock, and I simply don't give a shit. We just make the music that we love and make a spectacular show. And it works *S*
S-ROCK: You guys have been having fans from kids, teens to mature people – what is the secret of getting fans all ages? I've never heard a rock band plays twice for 1 night, the 1st one is for kids and later for mature eople. I think your music is something quite new for kids and teens, something they've ever experienced for mature people – and for melodic rock fans at the same generation as yours it's what they have really wanted since 80's melodic rock was gone. For me there are a few great bands/artists from 90's, but most of the time I'd been really disappointed and tried NOT to expect a lot.
Glam: You know, when we got together again our audience was like in the mid ages, wanting the retro package for old times sake. After we had done the Schlaeger Festival MGP last year a lot of kids and even mature people in their late 40's turned to the band. Our youngest fans kept telling us that they wanted to see the band live, and som we did a small School tour for the youngest kids, and they loved it. To make sure they could get the Rock'n Roll experience too we had to set up two shows a night because of the alcohol politics here in Norway. So we generally do 2 shows a night, 90 minutes each, and sometimes this means that we have to wake up in the middle of the night to get to the places in time. But we love our fans and they deserve to be Wig Wamed !!!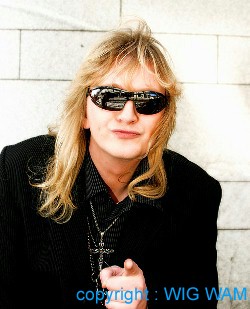 Teeny (G)
S-ROCK: What does "667" mean?
Glam: Actually, 667 was like a cool title for our album, kidding around with Iron Maidens well known title 666-The Number of The Beast. We called OUR album "667-The NEIGHBOUR of the Beast"….….the GlamRocker next do right *S*
S-ROCK: How is your gig like? And how's the tour which is going on right now?
Glam: Our gigs are like 90 minutes of pure adrenalin and 20 tons of Rock'n roll craziness. We're in the middle of our Rock Schlager Tour 2005, and I tell you, people go bananas. We open up with our intro and kicks off with The Best Song In The World, then Bless The Night, I Turn To You, Mine All Mine, Out of time (wearing monk capes he he), Highway To Hell and back in Black (Ac/Dc) where Teeny and Flash are tapping on each others' instruments while spinning around like the wheels of rock. Then I do the ballade Tell Me Where To Go, and the most beautiful girl in the audience gets the red Glam rose off course he he. Then Teeny takes over doing his guitar solo Errection which bursts right into The Drop. Then we do Ballroom Blitz (Sweet), Car-Lyle, a medley with I Wanna Rock/I Love Rock'n Roll and Holy Diver, before we close the show with Hard To Be A Rock'n Roller. Every night the fans manages to get us back on stage, and then we do Europe's The Final Countdown, Bon Jovi's Living On A Prayer, and then our hit Crazy Things before we say goodnight and go wild with IN MY DREAMS.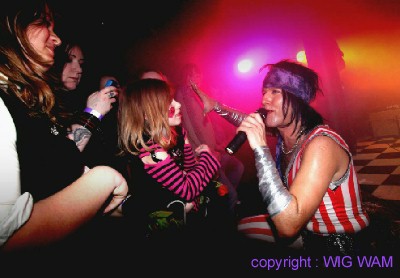 Do you find a girl in front of Glam has "the rose"?
S-ROCK: Your answer let me know you guys wear the monk clothes when you play Out Of Time – I wondered which song you play when I saw some photos from your shows. The idea of the clothes came from the lyrics?
Glam: Yes indeed! It's the Robin Hood of Rock thing you know *S*
S-ROCK: Who brought the idea of playing "I Turn To You" of Melanie C?
Glam: Actually it was Ole Evenrude's idea. Since no record companies wanted anything to do with WIG WAM, this was 2001, he invited us to his studio and wanted to sell us the idea of doing obscure versions of boyband hits. We thought the idea sucked, but tried it out. We thought I Turn To You came out really well though, and kept that track for our album.
S-ROCK: Your favorite bands/musicians? Music background?
Glam: One of my all time favourite bands is JOURNEY, and I also dig AEROSMITH, KISS and VAN HALEN. RATT is also pretty cool I think.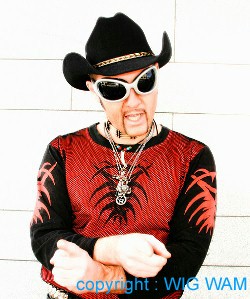 Flash (B)
S-ROCK: JOURNEY! My favorite, too. The voices of Steve Perry just opened the gate of rock music for me. He's "music God" in my life. I can tell you I would never talk to you like this if I hadn't listened to ESCAPE album which is always my big favorite, I mean I would never listen to foreign rock music if I hadn't found JOURNEY. And INFINITY and DREAM AFTER DREAM (soundtrack) are my fave besides ESCAPE album. How about you?
Glam: Same here *S* ESCAPE is my all time favourite, but I also love RAISED ON RADIO. Steve Perry is the ultimate AOR singer, and I adore him.
S-ROCK: The 1st record (not CD!) you got?
Glam: I think ….some Elvis stuff he he
S-ROCK: The 1st concert/gig you went?
Glam: URIAH HEEP.
S-ROCK: What is your goal as a musician? How about as a person?
Glam: My goal as a musician is to be able to travel the world not worrying about the cost, and to have as many people as possible enjoying our music. As a person my goal is to lead an interesting life meeting people and celebrating every day like it is the last.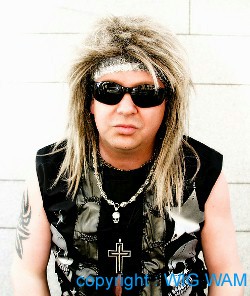 Sporty (Ds)
S-ROCK: How do you describe each member of the band including yourself?
Glam: Sporty is the funny guy in the band. He contributes with a lot of crazy humour and makes us laugh all the time. He's great. Love the guy ! He's also the toughest business man around, and have all the arguments going. Flash is the relaxed and sensible guy. The guy you can sit down with for a heart to heart conversation. A true friend that you know you can trust. Teeny is the pretty similar to me. A little bit less tense I suppose, but I think we are the two workoholics in the band. I'm a big fan of his guitar works and songwriter abilities. He's also a true friend and team player with  one of the biggest hearts around. The nicest guy on the block. Me, I'm the turbo guy. The wild wind of the band. The guys tell me I can be a bit too tense sometimes, but I'm in full drive. A bit manic maybe. Either full speed or almost dead. All or nothing.
S-ROCK: I found you try to reply to fans' messages at the guestbook/forum of WIG WAM as many as possible, seems you love to be in touch with your fans a lot?
Glam: We appreciate our fans a lot, and I really do my best keeping in touch with them all. Whenever I have 5 minutes I tune into the forum to chat with the fans. They give me so much inspiration and ideas. They are our bosses, and we need to know what they like or don't like.
S-ROCK: Your next step is EUROVISION SONG CONTEST in Ukraine in May. It's a pity that we can't watch the TV program live here in Japan.
Glam: That's a shame.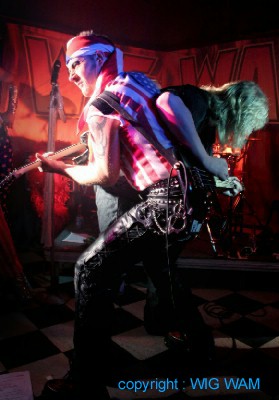 Can't see his face, the guy next to Flash is Teeny.
S-ROCK: Any plan to release your CD in Japan? How do you like Japan, Japanese rock fans? Any message to Japan/Japanese people?
Glam: Japan is the one place in the world that I really, really dream about visiting. I love Sushi and think the Japanese people seems so friendly and serious. The proudest people in the whole world. The culture is fascinating and the girls are so sweet. Japenese girls…you're in my dreams *S* We really wanna release our album in Japan as soon as possible and keep pushing our management to come over there. We are actually free to do whatever we like with our album outside Scandinavia. So Japanese records companies…please have us *S* I'm already on my way……………
S-ROCK: Have you ever met Japanese girls there in Norway as you told they're sweet???
Glam: Of course *S* There's something special about Japanese girls.
S-ROCK: And these are some ("not serious") questions, your answers will make Japanese girls want you to be in their dreams…..(?) Just like teen-magazines though. So far you've got just mature fans here in Japan, you want young fans as well, don't you? "Chicks" love to know everything.
Glam: We appreciate fans in ALL ages *S*
S-ROCK: Your favorite food (besides Sushi)/drink?
Glam: Besides from Sushi I really enjoy seafood a lot and I love Miller's lager to go with it.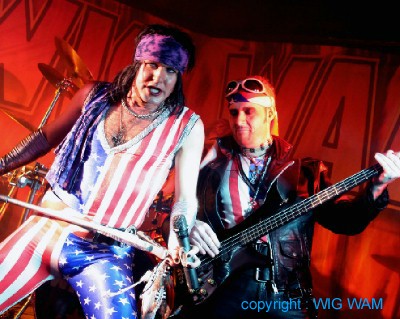 Definitely wanna see your gig!
S-ROCK: Your favorite movie(s)?
Glam: I really can't tell, can I *S* ? I enjoy a good laugh, so the Jim Carrey stuff is really making it for me. I also enjoyed SPIDERMAN and THE LORDS OF THE RING. When I watch a movie I prefer fiction and fairy tales that take me away to distant planets and ages.
S-ROCK: Your favorite book(s)?
Glam: I'm not too big on books, but I've read MOTLEY CRUE's THE DIRT, the Gene Simmon's bio, The BEATLES' bio and so on.
S-ROCK: Your favorite type of girls?
Glam: My favourite type of girls has black, soft hair, and lives in Japan……. They're very exotic to me *S*
S-ROCK: Your favorite colors?
Glam: Hmmmm, I guess purple.
S-ROCK: Your favorite words?
Glam: I LOVE YOU and ROCK'N ROLL.
S-ROCK: What will get you excited most besides music?
Glam: Girls, girls, girls.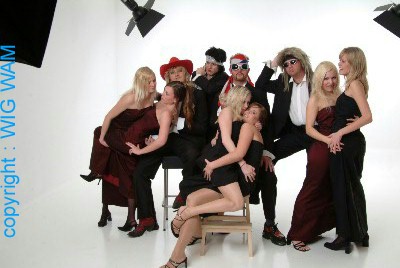 You guys are always like this…..(grin)?
S-ROCK: Thanks a lot for taking time for us, good luck at EUROVISION SONG CONTEST and keep up the great work!
(Discography)
HARD TO BE A ROCK'N ROLLER…in Kiev! (VOICES OF WONDER, 2005)
New version of the album with In My Dreams.
HARD TO BE A ROCK'N ROLLER (VOICES OF WONDER, 2005)
Remixed/remastered, with new title and artwork, with The Drop, Hard To Be A Rock'n Roller (radio version) and its video clip, it has a different song-order from 667… album.
667…THE NEIGHBOUR OF THE BEAST (GLOBAL MUSIC, 2004)
The original version of the album. Hard to find now.