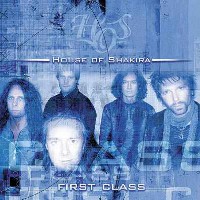 HOUSE OF SHAKIRA is a Swedish rock formation that started out in Stockholm around 1991. HOUSE OF SHAKIRA's music doesn't remind of any comparable band. The band's motto is "Try every idea with an open mind", therefore every member of the band contributes with own ideas to make this music unique. HOUSE OF
SHAKIRA consists of five very different personalities that only have one thing that ties them together to write and perform good songs. A good song is the key to make this band function, style or sound doesn't matter as long as the song is good. HOUSE OF SHAKIRA is producing melodic rock of the very highest quality because they mixed hard rock with several music styles – the vocals soar, the melodies rise and the guitars bring it all together. All these components make HOUSE OF SHAKIRA an outstanding listening sensation. Due to the diversity of the songs and the music, HOUSE OF SHAKIRA is not a typical hard rock formation; they will find a higher and wider audience and fan community.
Their debut "LINT"(bluestone) hit the stores in 1997 and "LINT" were nominated as best debut album in a lot of magazines and e-zines. Some went even further and put it in their "top-ten list" of debut albums ever. Shortly after the release of "LINT" HOUSE OF SHAKIRA went on tour through Europe as an opening act for ROYAL HUNT. They continued to England to play the GODS festival where "they set the standard for the day which was never bettered"(XXXXXX).
Big plans were made for the release of the second album "ON THE VERGE" (bluestone) but everything failed since the record company disappeared from the face of the earth just in time for the release. A situation that has been just typical for HOUSE OF SHAKIRA. This is a band that signed at least twice as many record deals as they'd released records so the situation didn't make them stop working and writing good songs.
HOUSE OF SHAKIRA returned to the scene in the year of 2000 with the release of "III"(MTM). Their sound was even more unique this time with a broad diversity of the songs. The record received rave reviews and was called "the best AOR-album in ten years". With the release of "III" HOUSE OF SHAKIRA received some support from radio stations in Sweden who aired the record and this took the band to play at the Sweden rock festival in 2001, a gig that was recorded and later on released as the live album "LIVE +". In the same year HOUSE OF SHAKIRA went for a tour in Spain that ended with them headlining the Nemelrock festival in Madrid together with HAREM SCAREM and DARE.
After about ten years of constant work with the band HOUSE OF SHAKIRA took a break in 2002 but are now ready to return with a new album titled "FIRST CLASS".
(Taken from the official website of HOUSE OF SHAKIRA)
(Discography)
FIRST CLASS (LION MUSIC, 2004)
LIVE + (HOUSE OF SHAKIRA MUSIC, 2001)
III (MTM, 2000)
BEST OF TWO (MTM, 2000)
ON THE VERGE (blueStone Music, 1998)
LINT (blueStone Music, 1997)
HOUSE OF SHAKIRA Official Website
http://www.houseofshakira.com/