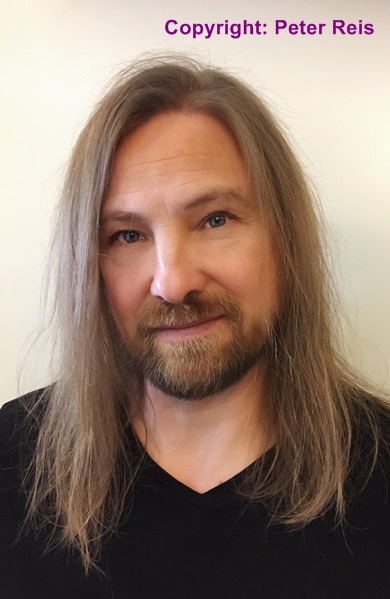 The latest shot of Peter. He did a "photo session" for this interview, we really appreciate it!
S-ROCK: In this interview we're going to talk about memories especially from 80's. Who is joining us this time?
Peter: Hi, this is Peter!
S-ROCK: I read the entire official biography and found something interesting. I didn't know the band had a contract with RIXI label which was owned by MARIANNE GRAMMOFON AB in Skara. I've ever visited their studio, they've released a lot of pop-style music.
Peter: Yes, Dan Stomberg and Conny Paynes (ex. Sundqvist) had a band called REGENT (pre-MADISON) and had been in contact with Gunnar Larsson, the A&R of MARIANN GRAMMOFON. Gunnar liked REGENT but wanted more materials to be able to decide whether to present them a record deal or not. That's when Dan (Stomberg) realized that they needed a stronger line up with a new singer and he knew just who to turn to! A couple of years back he had heard Göran Edman singing in a blues band and had been amazed by his voice! Funny, I was at the same event and didn't react in any way?! I guess the band sucked and that Göran was the stand out ingredient?
Anyway, Dan also contacted Anders Kalson and me from the rivalling hard rock/metal outfit "DESTINY" (Hudiksvall). 
We agreed on doing an audition with Göran and got together in an old demolition threatened house in Hudiksvall. Göran seemed very nice and timid and seemed like a very "regular guy" until he opened his mouth to deliver the most perfect heavy metal scream a la Rob Halford! Jaws were dropping in the rehearsal studio! "What had we just heard?!" We could not believe our ears! One of the songs we tried out was the DEEP PURPLE song "Soldier Of Fortune" where we could hear the beautiful lyrical side of Görans voice. That very moment is actually recorded on a cassette tape somewhere in my collection. From that moment on we knew we had a shot at making an impact on Gunnar at MARIANN GRAMMOFON and score a record deal with them. We went to Göran's rehearsal studio in Söderhamn where they had a 8 track reel to reel studio with mixer board. The songs recorded were "Loons On Their way", "Run Boy", "Pictures Return" and "Sneaker". Unfortunately the sound was very noisy and lousy, so the A&R Gunnar told us that he needed a better sounding demo before he could present MADISON to his big chief Bert Karlsson, VD at Mariann. So we recorded another demo at the semi-professional studio "FORSA STUDIO" in Forsa, a suburban village of Hudiksvall. The songs recorded were "Squealer", "Sneaker", "Diamond Mistress" and "Pictures Return". This demo sounded just right and scored us a record deal right away! I remember the feeling when we all got together in my father's car to drive down to Skara where MARIANN was located to sign the deal! It was a dream come true!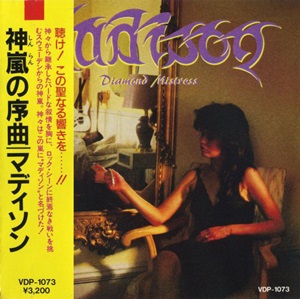 Japanese release of DIAMOND MISTRESS.
In the summer of '84 we got into MARIANN's small studio located on the ground floor of an apartment building. We recorded the whole album in one week only! Our producer was supposed to be a guy named Tommy Folkesson (a guy that nowadays is very renown for modulating guitar amps) but he signed out after the first day, I believe. I still don't know why? Maybe he had some difficulties in collaborating with our sound engineer Janis Laganovskis or with us? Anyway, our sound engineer was now also co-producing the record…
The mixing of the record and some additional vocals was made a few weeks later at KMH Studios in Stockholm. The sound on this record has been described by a reviewer to as "Flatter than a pancake under the inland ice coverage"! No bad huh 😉 Well, at least the songs were good, I think!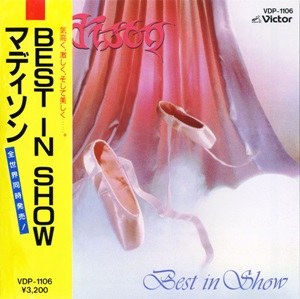 Japanese release of BEST IN SHOW.
S-ROCK: What did you do after MADISON broke up? Japanese fans know well about Japanese releases which Göran sang for, and Mikael joined KING DIAMOND.
Peter: In september '90 Anders and I went to USA to attend the MUSICIANS INSTITUTE music school in Hollywood, California. The reason was mainly because we wanted to develop our musical skills further, in every direction possible. Anders took the guitar classes and I took the drum classes. It was an inspiring school indeed and we had a great time there! After one semester of drum classes I switched to the vocal program. Besides vocal classes in school I studied opera vocals with a woman who was a retired opera singer. In school I met an American girl and we started to date. After graduating school I moved around the United States with my girlfriend who I later on married in '93. We lived in West Palm Beach, Florida and in San Fransisco and Sacramento in California. In Florida I sang in an opera chorus that performed Il Trovatore by Verdi, La Bohème by Rossini and The Magic Flute by Mozart. Two of the operas were sung in Italian which I couldn't speak more than three words in, but it went fine with just memorising the sound of it! The opera world was really a new and exiting experience for me! Standing on stage with "masquerade costumes" singing at the top of my lungs with the best opera voice that I could muster 🙂 "Che Gelidad Manina" from La Bohème is still my favourite opera aria (I didn't sing it, I was in the opera chorus). In Florida I also sang in a coverband called "Funkin´ay" where I sang songs like "Smoking" and "More Than A Feeling" by BOSTON and "Lights" by JOURNEY. 
We eventually moved to San Fransisco where I took some more opera schooling and did an audition for the San Fransisco Metropolitan Opera. I didn't make it, but I am still very happy about my performance and me having the balls to try out! 
After a year in SF we moved to Sacramento. There I started to play the drums again in a YES tribute band. It was a lot of fun transcribing in detail the notes that the drummer in YES Bill Bruford had done, now that I had gotten the right tools for doing just that from the MI school of music. 
In '96 I returned to Sweden for my moms birthday and didn't return to the US after that. I felt like that chapter in my book was finished. Of course it was sad and gruesome with the divorce and all, but I felt like staying in Sweden was the right decision. In Hudiksvall Sweden a good drummer was in demand so I played in several bands at the same time. One band called THE REVIVALS played music from the 50's and 60's. It was perfect for me drumming, doing a lot of lead and back up singing. Among songs I sang was "Cherry baby" by THE FOUR SEASONS and "Don´t Worry Baby" by THE BEACH BOYS. Another band I played in was SONNYS VÄNNER (SONNY'S FRIENDS) a band that put out an album called "ZEBRAROCK". It's on the Spotify streaming app. I made many new friends around this time and one of them was a young guy working full time as a troubadour. His name was and is Jonas Nyman. We started a coverband together with Conny Payne and our first gig was doing shows at a skiing resort at the turn of the millennium (2000). The band was called CHARTBREAKERS. You can check it out on Facebook and on Youtube. We played full time for five years, doing about 160 gigs per year. It was a wonderful time indeed, and not only because of working in the music business again but I also met my current wife Maria Reis in the early year of 2000! When CHARTBREAKERS was over in 2004, we got married and got two wonderful boys together! I took her last name "Reis" as my married name, I thought it sounded cooler than Fredrickson, don't you agree?! Since then we have been living in the heart of Stockholm. I have been focusing on my family life since then and I have had and still have a job taking care of retarded people in their home. In 2012 I went into a studio to record three songs that I have written. Songs in a singer/ songwriter/ folk rock genre with Swedish lyrics. A few good friends helped me out on various instruments and vocals, while I did the backing vocals myself. I'm still writing songs and my biggest dream is to become a professional song writer when I grow up 😉 The love and the passion for music is still there!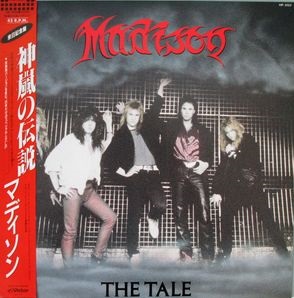 S-ROCK: In mid 80's there were not a lot of contacts between Japan and Sweden in music business, how did you feel when JVC (Victor) got in touch with you guys to have a contract for records? Mr. Matsuzaki, the A&R for you guys, got to know MADISON when his friend got an import record, the official biography talks about it. And in Japan every disc has an "OBI", these days Japanese record companies seldom give a Japanese title though, they used to do a lot. for MADISON materials, "Shinran No Jokyoku" (Prelude Of God's Storm) to DIAMOND MISTRESS, and "Shinran No Densetsu" (Legend Of God's Storm) to THE TALE. Did you guys hear the meaning?
Peter: Right, the world was completely different back in the 80's. You couldn't record your band with a professional result on your own, you had to have a record deal and depend on record companies and other people's actions to get your music out to the people. The communication with other parts of the world was harder and very slow. MADISON had a management who dealt with all the contacts with the outside world (outside of the five individuals in MADISON and our creative music making). Of course we were very happy to hear that our music was appreciated in a foreign country far, far away from Sweden. 
Funny that you had Japanese titles on foreign albums! God's Storm….sounds really strong and full of holy matters…..wow it feels hard to live up to that, maybe it was best that we did not know of that name? 😉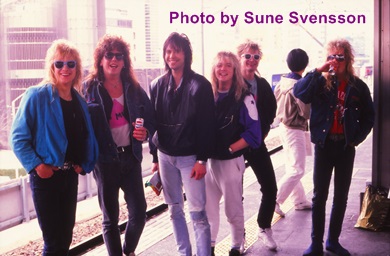 at Nagoya Station during Japan Tour 1987.
S-ROCK: Any interesting story during the Japan Tour 1987? You shared photos from the tour on FB, it's very fun to see. Many gigs in Japan used to start at 18:00 as public halls close at 21:00, start at 19:00 on weekdays these days though, and especially for HM/HR few gigs at public halls, many gigs are held at clubs/"livehouses" we call in Japan. Workers in Japan can't leave their companies earlier, and we care about train/bus timetables to come home after a gig. In Sweden (and other countries in Europe) gigs start late, what did you think when you heard the venue opened before 18:00?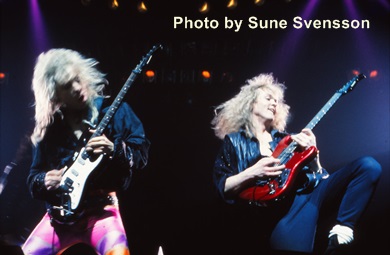 On Japan Tour 1987.
Peter: When we got to Japan we were surprised to hear that we were pictured as being young, pretty boys, innocent and almost juvenile. The first night in Tokyo our promotors MISCH MASCH Masch wanted us to be sleeping in our rooms no later than 10 PM to be rested for our first gig next day 😉 So we said good night and went into our rooms. Of course we got ready for a night out and phoned each other and on a given signal we ran off to the fire escape, made our way down the staircase onto the street level. Thru the panoramic window we stared into the startled faces of the representatives of MISCH MASCH and our management who sat in the lobby. We ran off down the street, waving down several taxis, jumping in and just "Roppongi!".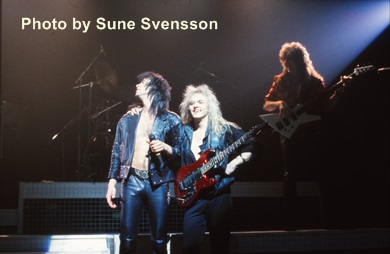 On Japan Tour 1987.

This behaviour became a pattern when we decided to dash from our party the following night. We were eating dinner in a tall building and afterwards all five bandmembers hurried to get into the single elevator an hit "down" before our company had reacted and Hokus Pokus, when our crew came down we were already gone ;-). Where to? Right, Roppongi again!
On Japan Tour 1987.
The somewhat early gig times in Japan were no problem for us, we had a lot more time to party afterwards! 
Seriously, most gigs at major arenas in Sweden starts between 19-20, so it´s not much of a difference.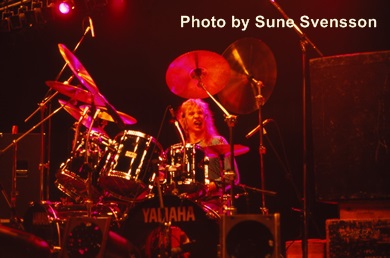 On Japan Tour 1987.
S-ROCK: I guess the idea of releasing THE TALE in Japan was from Mr. Matsuzaki, any interesting story of this 12″?
Peter: No particular story around that release, I guess it was good business for JVC Victor to put it out.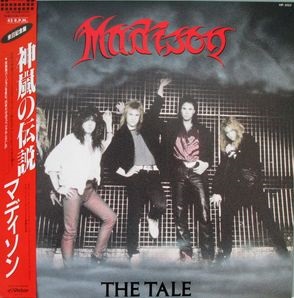 But for Mr. Matsuzaki I have a story. He took a big personal responsibility at the Roppongi incidents mentioned before. He actually drove his car down there and did actually find a few members of the band, whom he promptly drove back home to the hotel. Because of this and the fact that Mr. Matsuzaki had a daytime job at the record company made him extremely tired and he almost slept standing up, when he followed us to the airport when the tour was over. Poor guy, really! 😉
S-ROCK: Göran Edman and Mikael Myllynen left the band after Japan Tour 1987. Was there any problem between them and rest of the band? Or they just wanted to do something else?
Peter: Göran was almost out of the band prior to the Japan Tour 1987. Why? Well everybody wants a great singer in their band and John Norum and Vinnie Vincent were no better! 😉 
Of course MADISON wasn't able to match the business opportunities offered by much bigger acts.
Our management actually took legal action towards the Vincent party and demanded a million Swedish crowns to release Göran from his contract with MADISON. Eventually there was a deal made with Göran to stay in the band until the Japan Tour was over. I must stress that there was no animosity between the MADISON and Göran on this matter before or after!
I don't quite remember what happened with Myllie really. You have to check that with Myllie. 
S-ROCK: After Göran Edman left the band you guys did an audition and chose Pete Sandberg as a new singer. What was the most important thing when you chose him? You guys wanted to put westcoast style to your music, that's why?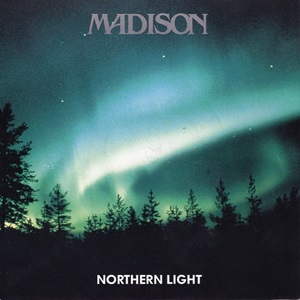 Peter: Well, we tried hard to get a replacement for Göran which of course was a very hard task! Quite a few singer were auditioned at our rehearsal room at "Fryshuset" in Gothenburg. Among them Tony Niva (SWEDISH EROTICA/LION'S SHARE) and Zenny Gramm (DESTINY GOTHENBURG). Eventually we picked Tony Johansson aka. Tony Yoanson (MASQUERADE), a great looking nice guy from Skövde with a really good voice! However, our management KAZAAM INTERNATIONAL insisted on MADISON picking their newly found singing star Petter "Pete" Sandberg (ALIEN/SNAKECHARMER etc.) from the Gothenburg rock-duo VON ROSEN, which name implicated it´s founder Magnus Rosén (HAMMERFALL). Petter's rock-image was perfect and he had that great sounding West-Coast flavoured voice, which got you thinking of Steve Perry of JOURNEY. Perfect for our new material which was more into the AOR/West Coast vein. We did an audition with Petter which went well and agreed on him as our new singer. So we got into the pre-production phase recording a demo at Studio Lane in Gothenburg. The songs were "Northern Light", "In Our Best Years", "This Time I'm Ready", "Fair play", "I Am Alone Here", "Where There Is A Will (There Must Be A Way)", "Venetian Blind", "Time And again", "High On Ice", "Cry Of A heart", "Mammon" and "Who Loves Me?" However, I believe our record company SONET was not too happy on us changing our musical direction in such a dramatic way (almost in a SPINAL TAP way). But still they wanted to try out the new MADISON outfit on a single release. The single Northern Light was recorded in Oslo, Norway with Svein-Dag Hauge as producer. SONET didn't support the release of it with sufficient funding and advertising, the single didn't sell, so the project was basically a failure. One day Petter came over and handed in his retirement. He had gotten the singer position in ALIEN. The next day Conny showed up and had gotten the bassist role in ALIEN. The irony! Anders and I worked on a return of MADISON for quite a while, but finally we threw in our towels too.
S-ROCK: In 1998 you guys negotiated to record a come-back album, it didn't happen. You had started songwriting or only some negotiation?
Peter: We were just discussing a come back. I don't know if Dan had written any songs?
S-ROCK: You guys have started a FB as MADISON to share memories with fans, are you going to be together to record something or do a gig as MADISON in the future?
Peter: Well, you never know?! Maybe when there is a public demand for it? I hope MADISON is still remembered and that there is a fan-base strong enough to start a second coming of God's storm? 🙂
S-ROCK: In 2018 PRIDE & JOY MUSIC label in Germany released BEST IN SHOW CD, how did the re-release happen? And why not DIAMOND MISTRESS?
Peter: UNIVERSAL MUSIC is the record company who owns the master tapes of BEST IN SHOW. The master tape is the actual analog tape that the music was recorded on in the studio. In March 2018 I was contacted by the UNIVERSAL representative Peter Mannio on the plans for an e-release of BEST IN SHOW on the Spotify streaming platform. We discussed the possibilities of adding some bonus tracks, track order etc. Oddly, around this time PRIDE & JOY had contacted UNIVERSAL on the subject of re-releasing BIS (BEST IN SHOW) on CD. PRIDE & JOY is a German record company that specializes on re-releasing records with a nostalgic value in limited editions. Anyway, Peter Mannio at UNIVERSAL asked for MADISON's collaboration on listening and approving the results of the digital mastering from the original master tape. Other things the band got involved in was the track order, bonus tracks, photos, booklet text etc . 
I know that the DIAMOND MISTRESS master tape is owned by WARNER MUSIC. It's probably up for grabs, if someone wants to make a re-release!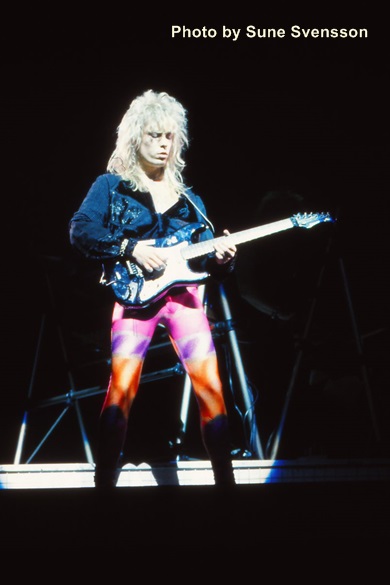 On Japan Tour 1987.
S-ROCK: Your messages to Japanese fans from 80's, tack så mycket!
Peter: I'm really grateful for all you fans giving us an opportunity to tour in Japan. We had a marvellous time! I will always keep that memory close to my heart. Who knows, maybe we'll meet again?!
MADISON FACEBOOK: https://www.facebook.com/MadisonSweden/