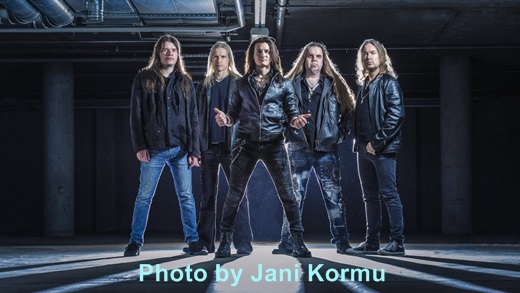 Special Thanks to: Rue for KING COMPANY JP on FACEBOOK / Twitter
Thanks: Japanese fans of KING COMPANY who sent questions for this interview.
S-ROCK: The 2nd album "QUEEN OF HEARTS" was from KING RECORDS out in Japan on the 25th of July and out from FRONTIERS RECORDS on the 10th of August in Europe. Are you guys satisfied with what the album sounds?
KING COMPANY (KC) : Yes we are very satisfied. Janne Wirman (CHILDREN OF BODOM) mixed an album (he mixed "ONE FOR THE ROAD" too) and he easily found our own sound again. I can say it's not a basic metal sound what you can hear in many heavy rock records. We always try to find some natural sound elements what you can hear on the records back in the days. But of course we have to make it on these days terms that your sound is not too thin and you are comparable with other bands.
S-ROCK: This album means the 1st album for new singer Leonard to sing for KING COMPANY. You guys asked him to join the band after Mirka watched him singing on YouTube. He lives in Italy far from Finland. Did you guys try to find a singer in your country? And what was the biggest reason why you guys got Leonard?
KC: Yes, first we checked what kind of style singers we have available in Finland, but didn't find anybody who was suitable. And yes I found Leonard from YouTube. Keyword " WHITESNAKE tribute band" got a match 🙂 …hahaaha. Truth is that first we needed only re-fill singer for Spanish-tour, so it doesn't matter he is from Italy or whereever. We thought that he's just gonna do only this tour and then we continue again with Pasi. But after the tour Pasi told that he can't continue with us cause he still have problems with his throat. Even it was a hard decision and really sad, it was still quite easy to call Leonard and ask him if he wanna take a job. And he wanted.
The biggest reason why we chose him was that he is a very kindly person, he is really energetic on a stage, and we had already one tour behind with him so he knows many of our songs already.
S-ROCK: At first You guys started recording the tracks which Pasi would sing for, but he left the band and Leonard joined officially then you guys finished the album. All the tracks are what you guys wrote before Leonard joined? Is there any new track just for Leonard to sing?
KC: On this album are two songs what we did after Pasi's leaving. "Berlin", what Time wrote by himself, and what he sang on album. Also Antti wrote "Living The Dream" in the end of the recordings. I wrote lyrics then for it, and what is funny you can hear Pasi singing there in middle of the song. This idea came to my mind when Pasi was doing vocal producing in a studio and we were recording Leonard's vocals for this song. I read the lyrics and noticed that there is good line what Pasi maybe could sing. It's kind of a instructions from an older guy to younger how to survive in this band..hahahah!
S-ROCK: Would you guys talk about each track of the album?
Queen Of Hearts
I think Queen Of Hearts is the heaviest track of KING COMPANY. I really like the uptempo feeling in the song. -Antti-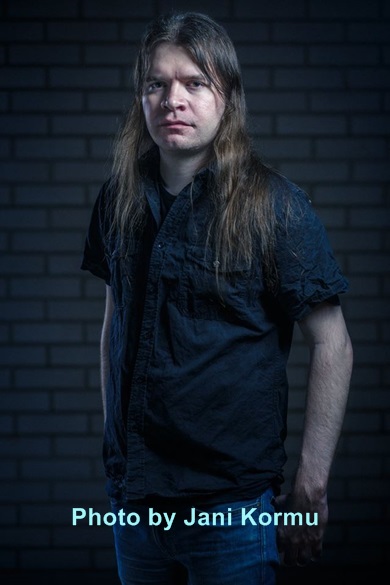 Antti Wirman (G)
One Day Of Your Life
First song I wrote it to the album. The groovy riff of a song is one of my favourite moments on the album. -Antti-
Stars
Lyrics and melody were mostly made in Greece (Cyprus) listening to 80's and 90's pop rock hits at the beach/bar.
Over sweet anti-metal verse made of major chords was intentional to make a drama for chorus in parallel minor. I hope the metal-heads forgive me this. -Jari-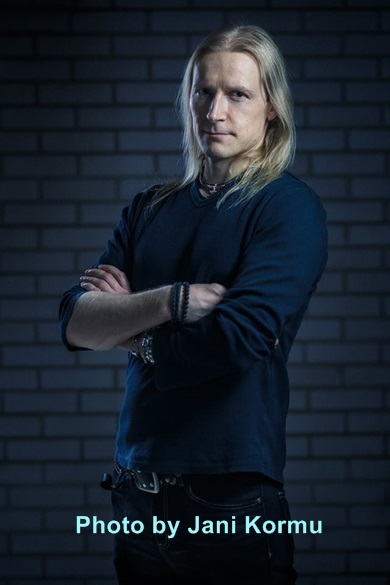 Jari Pailamo (Key)
Living In A Hurricane
Living In A Hurricane is the second single and video song of the album uptempo song as well. When I wrote the song I wanted to write another heavy track for the album. I love the chorus! -Antti-
Under The Spell
Somebody said that is our DOKKEN-style song, and I can say he/she is right. Mystical feeling and groovy song with a catchy chorus. -Mirka-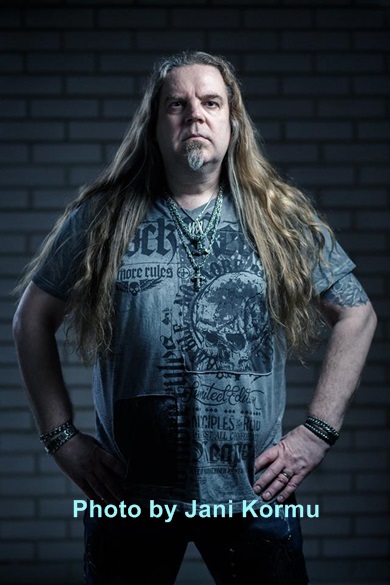 Mirka Rantanen (Ds)
Never Say Goodbye
Pasi's older song which I wrote melody line. I think it's pretty catchy chorus…. Isn't it? 🙂 -Mirka-
Learn To Fly
This is our power metalish song on a record. First we thought it doesn't fit to the album style but finally we took it and it was good choice. People likes it! -Mirka-
Berlin
Check Time's answer later.
King For Tonight
Positive and rocking power song with some epic elements which I always endorse. Ignited from the synth riff I played at rehearsal. Mirka catched it and suggested to make a complete song out of it. The rest came inspired from 90's kind of piano layers that I used a lot on the album. Added Hammond to the chorus, it's a solid rocker tune. -Jari-
Living The Dream
Nice ballad with warm feelings. Last song we wrote for the album which is so far one of best lyrics I have ever written. -Mirka-
Arrival
An epic ending song of the record. Great powerful guitar riff! -Mirka-
Never Say Goodbye (acoustic version, a bonus track for Japanese release)
We think it was best choice and it was easy transformed for an acoustic version!
Good Thing (Digital only for European release)
Also Pasi's older song. It's very AOR-oriented, there's a good vibe all the time but for some reason it was chosen for a bonus track.
S-ROCK: How do you guys compose tracks for KING COMPANY? Any new tracks for next album?
KC: We have some new material ready for the next album, but not so much yet. Normally all of us works first at home with songs and when we have something ready we go to rehearsal place jamming together and try to find right parts for the song. But like an example Jari normally writes a whole song ready alone at his home and then he just introduces it for us. Then we just include some spices for his songs if it's necessary.
S-ROCK: Was there anything difficult during the recording? We heard Leonard sang for recording in Finland then did some in Italy as well.
KC: Yes he did most of the vocal parts first here in Finland, but after he left we noticed that there is something what he should sing again or just add some more harmonies. Then he sang rest of the parts in Italy. 
S-ROCK: We think there are some tracks which Leonard voices could take steps forward, there are some fans who would like to listen to his voices louder.
KC: Yes that's true. His voice could be louder in some of the songs. I don't know what happened in a last mixing but for some reason some of the vocal parts are a little bit under the instruments. Better luck next time 🙂
S-ROCK: Is there any hidden story about the artwork of the album? We'd guess the Queen let the King dring something and he died and became bones?
KC: When I wrote lyrics for the song "Queen Of hearts" I thought it would be a good title of the album as well. Then this idea from the artwork came to my mind, and then I explained it to Jan Yrlund from Darkgrove Design and he illustrated it. In my opinion it's a great picture, I like it a lot. Jan Yrlund is a great artist!
But in some of the lyrics on this album, and on first album as well, you can find some true stories about the girl who's trying to survive through of her life, sometimes she's falling down and sometimes she rises again, but she never surrenders. That's why we have this girl on both album covers.
S-ROCK: You guys changed the band name to KING COMPANY before you guys got a deal with FRONTIERS RECORDS. What do you guys mean for the name "KING COMPANY"?
KC: It's like straight translation from Finnish words what we use when we talk about when you have good friends together and this is the meaning of "KC". (S-ROCK: Those Finnish words are "kuningas porukka". Kiitos, Mirka!)
S-ROCK: You guys had the 2nd anniversary of the band though, the number of the gigs you played is not so many. Do you guys want to play more gigs? Any plan(s) to play in other countries including Japan outside Finland?
KC: Of course we want to play more gigs and actually we already made a tour in Spain last autumn. We have some small tours coming on next year in Germany and in Spain. Also we have confirmed some festival shows next year in other countries. But Japan would be also great, it's a dream come true kind of a thing, and I'm pretty sure it will happen someday.
S-ROCK: (To Leonard) How did you feel when Mirka got in touch with you unexpectedly? Did you know KING COMPANY at that time?
Leonard: Ahaha.. Nothing speciaI .. I just opened my facebook page and I read: "Hey man! I'm Mirka Rantanen from KING COMPANY… We need a singer in September for a Spanish tour… are you interested?" And I said yes… Ok! Ahahah… Not really! I was really surprised. And In that moment I didn't realize who Mirka Rantanen was… And I had no idea what did he mean when he said "Spanish Tour".. I've never been on tour! Anyway the thing that really surprised me was when I listened to "ONE FOR THE ROAD" album for the first time.. Just in that moment I understood that I was so lucky.. And from that moment I started to work a lot for KC…
No, I didn't… but I knew Mirka as the drummer of "Timo Kotipelto"… And Pasi for "THUNDERSTONE" and I never thought to replace a singer like Pasi, it was an amazing thing!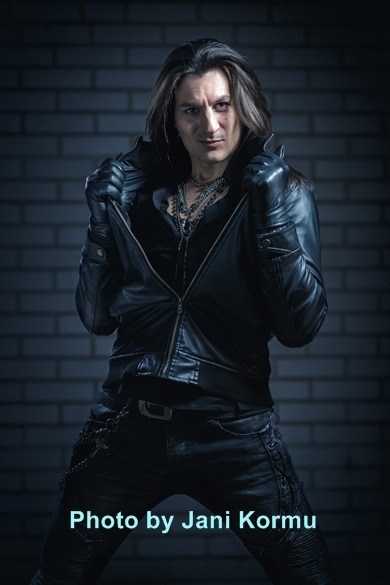 Leonard F. Guillan (Vo)
S-ROCK: (To Antti) Do you remember anything impressive when you came to Japan to play for CHILDREN OF BODOM 3 years ago? We heard you visited a workshop where your guitars were made.
Antti: Yes I do. Japanese hospitality is incredible. People are so nice, food is very good, beer is cold and Sake is warm! LOUD PARK is the best organized festival that I have ever visited, crowd was huge and loud! Actually I visited the ESP Guitar shop accidentally. I was wondering around the streets with my friend and we saw the shop and stopped by. There were some amazing guitars there and of course very friendly staffs.
S-ROCK: (To Jari) You played only 1 keyboard at the gig in Spain in July, are you going to do the same or use other keyboards at upcoming gigs? And your Japanese fans are talking about you were knitting in the promotion video of "Living In A Hurricane". It's impressed that you did very well, are you good at knitting?
Jari: When we started the band I had four keyboards and a rack live – it was great setup but I knew from the beginning that I would eventually run into logistics trouble with that much gear. Flying to gigs is a lot easier with less items and for our first tour in Spain I cut down to two keys and eventually I developed the ultimate minimum 'one synth setup' that is ready also for Japan gigs whenever that happen 😉  I like this simple one keyboard approach a lot and I will keep it that way for now.
Thanks, very nice to hear! I really should start knitting KING COMPANY "Living In A Hurricane" white wool socks for our merchandise since so many have asked about them.
To tell you the truth I really don't know how to knit and only was shown once before the video shoot how it should be done. I'm proud I was convincing – in reality it felt really difficult and awkward. Knitters, I salute you! 😀
S-ROCK: (To Time) Would you tell us about "Berlin" you composed and sang on the album. Are you playing that track on stage?
Time: The main riff of Berlin came to my mind in early morning of October 2017. I took my guitar and sat down. It took couple days to finish it and then I left it down for a few weeks. In meanwhile, I started to write lyrics. It became a song about spirits and ghosts of war which are still remaining in Berlin.
If you're familiar with expression "I can feel it in the air" and you've visited in Berlin , you might know what this song is about…! Especially if you're walking in the certain part of old east Berlin….spooky I would say!
And yes we are playing the song on our live set now!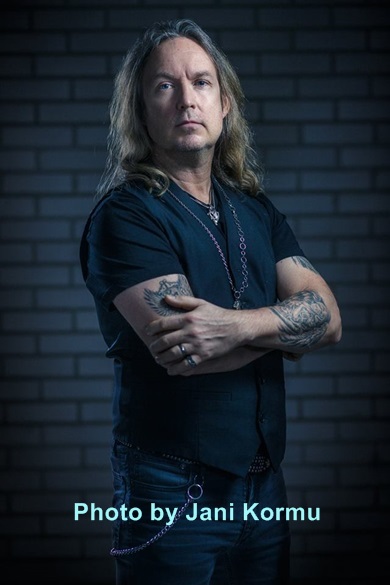 Time Schleifer (B)
S-ROCK: (To Mirka) You write lyrics of many tracks for KING COMPANY, When and how do you write them?
Mirka: I write lyrics all the time, maybe just a couple of words or lines to memory book whatever comes into my mind.. just that I don't forget them. And then I can use them later when I write the final lyrics. I'm not a so good lyricist because of my limited English, but still want to learn more everytime, and how to come better. I have lots of good stories and ideas in my mind all the time… just try to think how to get them all to paper..hahahaa!
S-ROCK: (To all the guy) We're curious about your eye color(s) as Japanese have black/brown eyes only. If you don't mind, would you let us know?
KC: Mirka: BROWN,  Time: BLUE,  Jari: GREY WITH BLUE, Antti: RED 🙂 , Leonard: GREEN
S-ROCK: Would you give your messages to Japanese fans of KING COMPANY who visit S-ROCK site? Kiitos!
KC: KONNICHIWA all Japanese fans! We really appreciate that you have bought our new album and we have got very good reviews from you! Also we really hope we can play someday there and meet you alive!
Before this happen we hope you keep on rocking with KING COMPANY!
-Mirka, Antti, Jari, Time, Leonard-